Cecil inducts 19 into International Honor Society
Published on May 10, 2019 under Academics, Alumni, General News, Student Life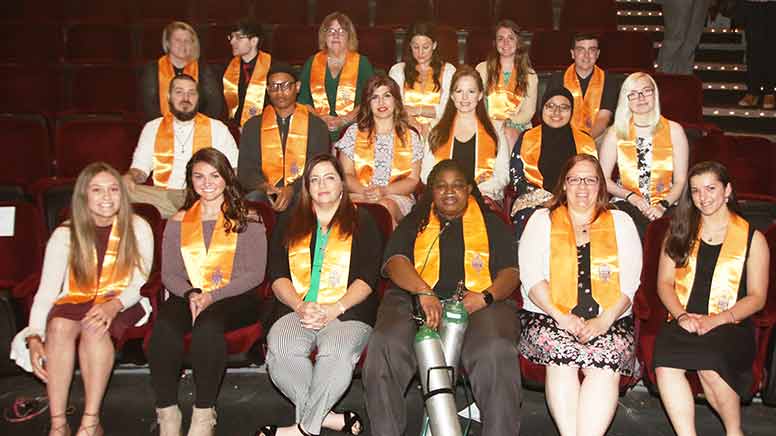 ---
NORTH EAST, Md. – Mother Nature provided a perfect evening to honor some of the brightest minds in the region on Thursday, May 9, when 19 Cecil College students were inducted into the Alpha Alpha Theta Chapter of the Phi Theta Kappa International Honor Society on the North East Campus.
This year's event marks the 46th Anniversary of the Alpha Alpha Theta Chapter at Cecil College, started in 1974.
Phi Theta Kappa is the International Honor Society which serves to recognize and encourage the academic achievement of two-year college students while providing opportunities for individual growth and development through educational, leadership, and service programming. It is the largest honor society in American higher education, having been established in 1918 by two Missouri two-year college presidents.
Membership in Phi Theta Kappa is offered to students who have a 3.5 GPA or higher for at least 12 credit hours in a degree program.
In addition, two of Cecil College's current Alpha Alpha Theta members were presented the honor of Phi Theta Kappa All Maryland Academic Team during a ceremony in Ellicott City, Md., on Wednesday, May 1. Blake Griffith II and Andrea Nickle, both Elkton, Md., were recognized for their scholastic achievements and leadership among students in Maryland's community colleges. They were nominated and recognized for their outstanding service on and off campus. They received certificates, as well as medallions for their exemplary service.
The 2019 inductees to the Alpha Alpha Theta Chapter are:
| Name | Hometown |
| --- | --- |
| Christine Barben | Colora, Md. |
| David Hamm III | Colora, Md. |
| Stephanie Gunter | Conowingo, Md. |
| Cynthia Lysakovski | Conowingo, Md. |
| Romeo Volpe | Elk Mills, Md. |
| Jennifer Altvater | Elkton, Md. |
| Eileen Killman | Elkton, Md. |
| Kristen Magaw | Elkton, Md. |
| Sarah McDaniel | Elkton, Md. |
| Marlena Tatman | Elkton, Md. |
| Samaah Wahid | Elkton, Md. |
| Patsy Williams | Elkton, Md. |
| Paula Cowen | North East, Md. |
| Patrick Sarno | North East, Md. |
| Anthony Smith | Perryville, Md. |
| Loren Dixon | Port Deposit, Md. |
| Erin Elburn | Port Deposit, Md. |
| Jenny Bhatti | Westminster, Md. |
| Rachel Durham | Middletown, De. |