Cecil Leadership Institute tours Amazon Fulfillment Center
Published on April 2, 2018 under Academics, Faculty & Staff, General News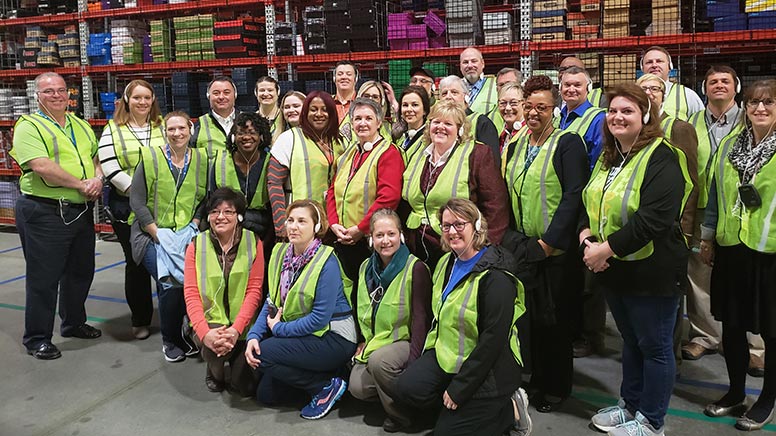 ---
The 2018 class of the Cecil Leadership Institute had a unique opportunity during its weekly training when it became the first public group to tour the new Amazon Fulfillment Center located in Principio Business Park.
The 1.5 million square foot facility began operations in September 2017, handling all of Amazon's shipments of shoes and accessories across the country. This fulfillment center is just one of at least five in Maryland.
The North East site currently employs more than 1,100. While having high expectations for its employees, Amazon is very loyal to its workforce by offering full healthcare coverage from their start-date, stock within the company and retirement benefits. The company even goes a step further by providing coverage of college tuition for employees seeking to pursue a degree in a high-demand field.
Within the complex, nearly 200 racks are stretching 45 feet to the ceiling. These racks are strategically placed to allow uniquely shaped aerial lifts, which run on hydrogen cells, to traverse up and down the aisles. The lifts are a combination of computers and humans controlled. The human drivers control the vehicle when traveling from one rack to the next, but once the lift enters the racks, the computer takes over guided by lines on the floor.
Throughout the building, there are different colored lines on the floor, with walkways marked clearly in green. Once a lift enters the racks, the driver then concentrates on raising the platform to retrieve the ordered product.
Beyond the racks are workstations where the shoeboxes are organized on carts, taken to packaging stations, wrapped, labeled and placed on conveyor belts. While the packages move along the conveyor belts, they are scanned and weighed to ensure proper address and postage.
Among the top priorities for Amazon is the customers' privacy. Along with guarding the personal information, the company ships items in separate packages, so employees or the public know what and how much an individual is buying.
A unique aspect of the North East facility is that solar panels generate 85 percent of the electricity used. The solar panels are on the roof of the building. There are approximately 12,600 panels.