It All Started Here …

Cecil students win PNC Bank Scholarships

Published on August 20, 2018 under Academics, Alumni, Athletics, Foundation, General News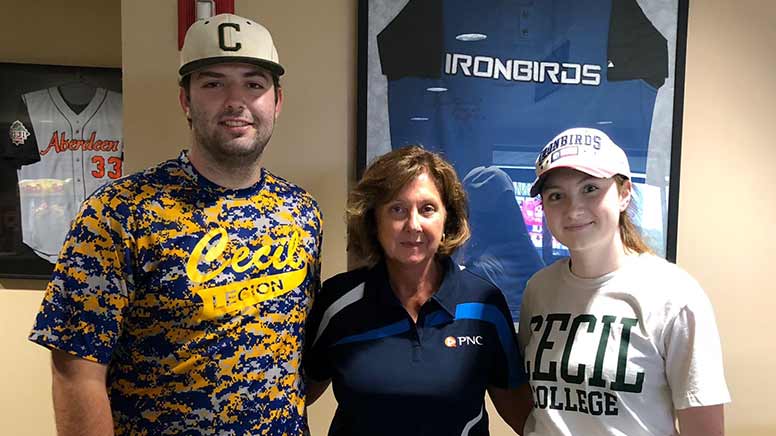 Tyler Robinson, left, and Emily Waldridge, right, took part in the PNC Bank Scholarship Contest at Ripken Field in Aberdeen. Waldridge won a $3,500 scholarship on top of the $250 she was awarded for participating. Robinson won $500 in addition to his $250 award. They are joined by Vanessa Brown, PNC Vice President and former Chair of the Cecil College Foundation's Board of Directors.
---
NORTH EAST, Md. – When it comes to performing under pressure, Emily Waldridge is at the top of her game. So it was last week when this Cecil College sophomore stood in front of a sold out crowd at Ripken Stadium in Aberdeen to score the highest among six contestants, to win a $3,500 scholarship.
The PNC Bank Scholarship Contest, hosted by the Aberdeen Ironbirds baseball team, awarded $250 scholarships to three students from Harford Community College and three students from Cecil College. These six students then had an opportunity to win one of three additional scholarships by flipping over three large playing cards, with the prizes going to the highest totals.
"I was super nervous going out there. It was nerve-racking, and then the guy was like; 'Oh my. That's 20. You won.' I was like, what just happened and did this happen," said Waldridge. "In my mind, I was thinking there are six students, so I don't have too much of a chance to win."
Waldridge's score of 20 earned her first prize of $3,500 while Harford CC's Anthony Celozzi scored 17 points for a $1,000 scholarship. Cecil College's Tyler Robinson won a $500 scholarship with a score of 16, in addition to the $250 awarded for participation.
PNC Bank, a dedicated supporter of Cecil College for over 30 years, started the competition program last year as an opportunity to celebrate Cecil College Harford CC students. By bringing scholarship students out to Ripken Stadium, PNC shines a spotlight on the opportunities that both colleges provide.
"Being a member of the Foundation Board at Cecil College, I realize how incredibly important a scholarship is to these students," said Vanessa Brown, PNC Vice President and former Chair of the Cecil College Foundation's Board of Directors. "We work closely with the schools and colleges in Cecil and Harford counties because PNC Bank is deeply committed to education."
"I got to throw out the first pitch Tuesday evening before the award ceremony. Tyler (Robinson) was present as well, and he won the third place prize. It was great having someone out there that I know," said Waldridge, who is a member of the Seahawks' volleyball team. A graduate of Elkton High School, Waldridge is a Psychology major with plans to pursue a Master's degree and work for the FBI as a behavioral analyst.
Waldridge had her cheering section in the stands with her parents, Larry and Rebecca Waldridge, along with other family members on hand to watch the event. From her selection of cards laying on the ground, she began by selecting number six, her volleyball jersey number.
"Then one of the baseball players was encouraging me to pick his number, so I picked three. That is when I realized they wanted me to pick the Ripken numbers, three, seven, and eight. So I picked eight and wound up getting 20 to win it," said Waldridge. "My parents and I were very grateful for this opportunity because it is helping me this year. We were worried about how we were going to pay for some of the expenses of school."
Robinson, a graduate of North East High School, is a sophomore in the Computer Information Systems program and a member of the Seahawks' baseball team. The third Cecil College student taking part in the competition was Blake Griffith, who is a second-year Business Management student. Griffith worked with the Student Life Office and gave a presentation at the "Power of You" leadership conference. He is also a student ambassador at Cecil College.