Cecil unlocks VanHorn's drive and determination
Published on May 7, 2019 under Academics, Alumni, Foundation, General News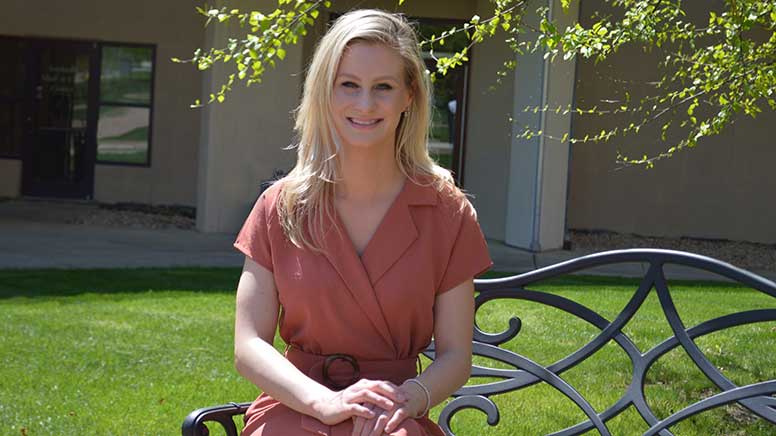 ---
NORTH EAST, Md. – As a young professional, Rachel VanHorn quickly found her path to success through the life lessons and skills she acquired growing up in Cecil County and deciding to remain in the region for her education. The educational environment of the Jacob Tome School prepared her for a rigorous curriculum that awaited her in college. She found that challenge at Cecil College.
"Cecil College taught me the value of building relationships and how to network. As a smaller community, it was less intimidating, and I wasn't afraid to introduce myself to people with whom I might not otherwise come into contact," said VanHorn, who is a regional sales representative for Armstrong Flooring Corporation. "In my career, building relationships is so essential. I need to have that or I won't do well in the industry."
VanHorn was groomed in high school to seek out education at a highly prestigious institution such as those in the Ivy League. It was her practical sense that made her look beyond the glitz and glamour of an institution's name in search of a rigorous academic program that would meet her goals.
"My goal coming out of high school was not to accumulate debt to pay for my college. Cecil College was the place where I could succeed with the least amount of financial burden. I searched around, and I had a lot of scholarship offers, but I would have still left those schools with lots and lots of debt," said VanHorn, who was the first student from her graduating class to attend Cecil College. "The faculty is so dedicated to helping the students be successful. They (faculty) are so passionate because they value an education that is affordable and still just as rigorous."
VanHorn graduated from Tome school in 2012 and completed her associate degree in business management from Cecil College in 2015. She went on to complete her bachelor's degree in business management one year later from Wilmington University.
"That was another beauty. I was able to take so many credits at Cecil and transfer them to Wilmington University under an articulation agreement that I only had to do one additional year. It was at a much less cost by doing as much as I could here," said VanHorn.
As a shy person during her secondary education, VanHorn found her confidence and voice with the encouragement of the faculty and staff in the college. This confidence led to her getting involved in promoting the college both internally and externally to community organizations. Because of Cecil College's small intimate environment, students like VanHorn are afforded the opportunities to support the athletics programs, be an admissions ambassador, join many of the student clubs and organizations, and get to know their faculty one-on-one.
"I liked having my hand in everything because I felt safe and secure within Cecil College's environment. When I realized I could connect my specific story to a public platform and speak about it, that is when the personality within me took off. Because everyone here is so encouraging and supportive, it helped me be confident in who I am. It helped me to become more outgoing," said VanHorn, who remains confident but humble. "At that point, I decided to make it my mission to let other people know how great Cecil College is and what an asset it is to Cecil County."
Moving forward, VanHorn is keeping an eye on pursuing an MBA. Having completed her bachelor's degree with little to no debt, her future both academically and professionally holds many options for her. With a passion to motivate, teach, and provide encouragement to those around her, VanHorn says there are no limits to the success anyone can achieve.