Cecil's Kohl wins PNC Scholarship Contest
Published on August 23, 2019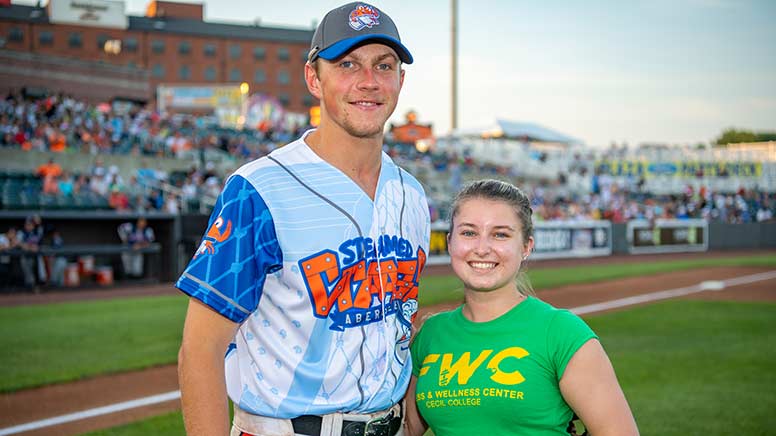 ---
NORTH EAST, Md. – The luck of the Irish was with Samantha Kohl earlier this month when she drew the winning combination of cards during the Second Annual PNC Scholarship Competition at Leidos Field at Ripken Stadium.
The Cecil College sophomore stood in front of a sold-out crowd at Ripken Stadium in Aberdeen to score the highest among six contestants and win a $3,500 scholarship.
The PNC Bank Scholarship Contest, hosted by the Aberdeen Ironbirds baseball team, awarded $250 scholarships to three students from Harford Community College and three students from Cecil College. These six students then had an opportunity to win one of three additional scholarships by flipping over three large playing cards, with the prizes going to the highest totals.
With her mother, Maria, cheering her on from the stands, Kohl scored 18 points to earn her first prize of $3,500 while Cecil College's Tyler Robinson won the third-place prize of a $500 scholarship. These two scholarships are in addition to the $250 awarded to each of the six participants.
"Without this scholarship, I would have had to take out a student loan which wouldn't have helped me, as I don't want to go into debt. Being a full-time student, I need to focus on my education instead of working a lot," said Kohl. "I don't have a lot of income, so this allows me to pursue my education without a lot of stress, and I can focus on school."
PNC Bank, a dedicated supporter of Cecil College for more than 30 years, started the competition program as an opportunity to celebrate Cecil College and Harford Community College students. By bringing scholarship students out to Ripken Stadium, PNC shines a spotlight on the opportunities that both colleges provide.
"Being a member of the Foundation Board at Cecil College, I realize how incredibly important a scholarship is to these students," said Vanessa Brown, PNC Vice President and former Chair of the Cecil College Foundation's Board of Directors. "We work closely with the schools and colleges in Cecil and Harford counties because PNC Bank is deeply committed to education."
Kohl, who graduated from Rising Sun High School in 2017, is planning to complete a certificate in the Medical Assistant program in May of 2020 and return for one more semester to earn her associate degree in general studies.
Worthington, a graduate of Solanco High School, is a sophomore in the Business Administration program and a member of the Seahawks' baseball team. The third Cecil College student taking part in the competition was Jessica Cooke, who is a second-year art student and a graduate of North East High School.