Cecil's winningest basketball coach inducted to HOF
Published on April 5, 2019 under Alumni, Athletics, Foundation, General News
---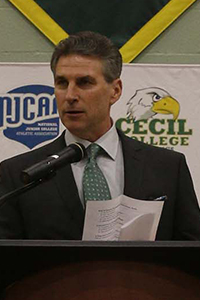 NORTH EAST, Md. – For someone with the dynamic personality of Bill Lewit, it is not surprising that he found success on the basketball court during his 14-year career at Cecil Community College. As the winningest men's basketball coach in Seahawks history, the institution honored him this week as a member of the Class of 2019 for the Cecil College Athletics Hall of Fame.
Lewit was among the seven pioneers who had a hand in the creation, development, and growth of the Cecil athletics program.
They included legendary baseball coach Charles "Dick" Brockell (posthumously); former men's soccer coach, student-athlete advisor and mentor Dr. Thomas Topping; former Cecil College Board of Trustee member and executive director of the College Foundation Mary Maloney; former women's volleyball and basketball coach Mary Etta Reedy; longtime administrative assistant Shirley Weaver; and former assistant athletics director Thomas Wilhide.
"What was great about Bill was his determination and drive. I remember him getting hired in August and he went right out recruiting. Despite a dismal first season, he turned things around and found nothing but success," said Cecil College Athletics Director Ed Durham.
Lewit likes to joke that he coached only 13 seasons at Cecil as the first season didn't count because the team won just one game. But in reality, it was about winning both on and off the court. To this end, his teams won 354 games during his time at Cecil College. In the classroom, 90 percent of his student-athletes completed their associate degree at the college.
"I wanted three things for every one of my sophomore players. I wanted them to not only graduate with a degree, but with a life's education; to improve their skills both in body and knowledge and matriculate to a four-year school. Finally, I wanted them to understand the value of a team that wins championships and how that knowledge can be applied to life," said Lewit during his acceptance speech.
The Seahawks finished with a record of 354-67 when Lewit left Cecil in 2009 to take a coaching position at Northwestern State University. This success also led Cecil to win the 2006 NJCAA Division II National Championship and be ranked No. 1 in the nation for 2006, 2007 and 2008. He has coached 22 Maryland JUCO All-Conference players; 26 NJCAA Region XX All-Region players; and nine NJCAA All Americans.
"I had three rules for my players for them to be successful. Be on time. If you cannot be on time, be early. Do what you are supposed to do when you are supposed to do it to the best of your ability. No one was guaranteed one second of playing time. You had to earn it by being a good citizen, getting it done in the classroom," said Lewit.
The Seahawks won five consecutive Maryland JUCO State Tournament Titles (2004, 2005, 2006, 2007 and 2008), and six NJCAA Region XX titles (1999, 2003, 2005, 2006, 2007 and 2009). Lewit was responsible for 39 student-athletes earning NCAA Division I basketball scholarships to four-year colleges and universities with another 30 players receiving scholarships from NCAA Division II colleges and universities. The Seahawks enjoyed five consecutive seasons with 30 or more victories.
Lewit was recognized for these accomplishments by being named Region XX Coach of the Year six times, Northeast District Coach of the Year nine times, and NJCAA National Coach of the Year in 2006.
"Our program got wealthier and better when community members rallied behind our student-athletes and provided us with everything we needed to be successful. For that I cannot thank everyone enough," said Lewit.