CLI tours Fair Hill Training Center
Published on May 3, 2018 under Academics, Alumni, Foundation, General News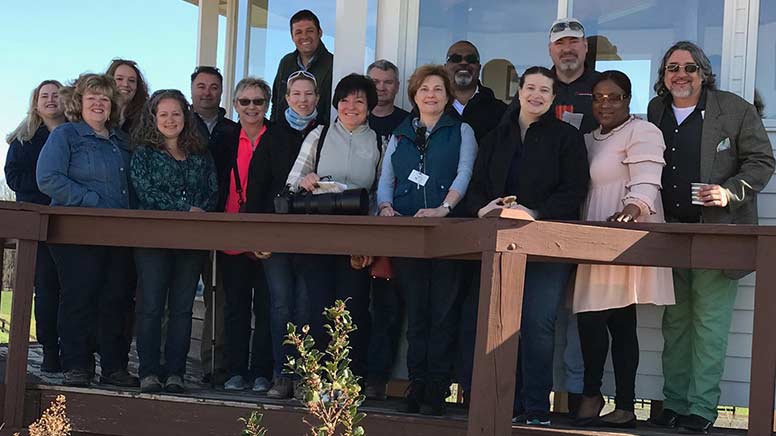 ---
As with the caliber of thoroughbred horses trained at its facilities in Northern Cecil County, the Fair Hill Training Center is a well-oiled machine that is driving the racing industry on the East Coast.
Members of Cecil Leadership Institute's Class of 2018 were recently permitted a glimpse of the behind-the-scenes working of this industry. The tour provided what few in the general public get a chance to view as it included training techniques, medical care, rehabilitation facilities and care provided these animals.
"Our clients are from around the world and throughout North America. They send their horses here because we can offer training facilities and services that few others can," said Anita Motion.
The Fair Hill Training Center is also ideal for its location as well. Centrally located to all the major harness racing tracks in New York, New Jersey, Kentucky, and Maryland, horses can be on site for racing within one to two days.
Established in 1983, Fair Hills operates as a condominium association under Maryland State law and holds a 100-year lease. The facilities include a one-mile dirt track featuring break-away rails for the protection of the horses. On the inside of this track is a shorter synthetic track and a turf track for breezing, both accessible via a tunnel under the dirt track.
Because the stables and adjourning buildings are privately owned, they are not open to the public. The 18 barns can house 490 horses year-round with an additional 240 season stalls. Each is designed with turnout paddocks and round pens to maneuver the animals.
For training and therapy sessions, Fair Hill has 12 free-standing hot walkers along with an onsite veterinary clinic with outpatient faculties. There are treatment rooms for horses suffering respiratory issues, including a Hyperbaric Oxygen unit.
"Some of these horses are worth millions of dollars, so we provide them with the best possible treatment. I am here and available any time of the day," said Dr. Kathy Anderson, Equine Medical Director for Fair Hill Training Center.
Everything seen during the tour fell in line with the Fair Hill Training Center's mission of providing a full-service, year-round training center within a safe, natural environment, utilizing multiple surfaces to optimize racing performance nationwide. Horses begin their training at two-years-old.
The economic impact of the Fair Hill Training Center is significant to the county and the region. The training center pays more than $9 million annually in salaries along with spending another $10 million for feed, tack, facility maintenance, veterinarian care, and horse transportation.
The training center has gained national notoriety by training winners of the Preakness Stakes, Belmont and Kentucky Derby. During the 2017 season, 396 horses placed first in their races along with 342 places and 341 show.