College receives grant for HVAC equipment
Published on July 11, 2018 under Academics, Alumni, Faculty & Staff, Foundation, General News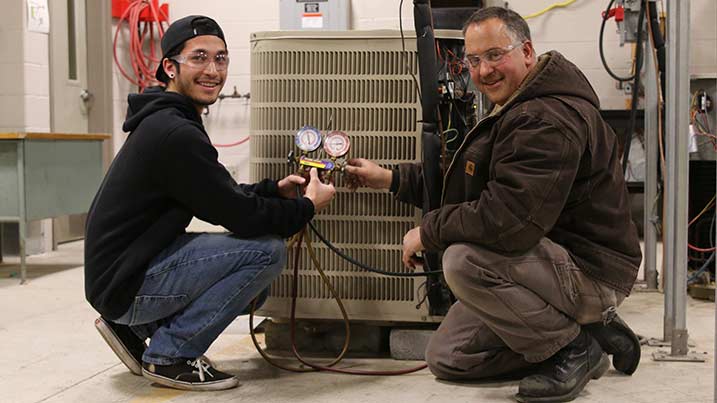 ---
NORTH EAST, Md. – Cecil College is the recipient of a local impact grant meant to purchase a variety of training tools for the institution's HVAC program, giving graduates a competitive edge in the workforce.
The College requested and received $10,927 to cover the cost of a digital manifold set, micrometer meter, Mullet meter, digital manometer and a vented tool cabinet to store the equipment. The funding will also cover the purchase of a training furnace, coil case, an outdoor unit, heat pump, recovery system, vacuum pump, and thermostat.
The tool providing Cecil College students the competitive edge is the acquisition of an oxy-acetylene torch and two tanks, providing students the opportunity to earn a welding certification that other HVAC programs do not offer.
"There is a huge demand for HVAC technicians within Cecil County, and this equipment will help the College meet that demand," said Miles Dean, Dean of Career and Community Education. "This equipment will help our students stay current in their skillsets."
The Cecil County Video Lottery Terminal Local Community Grant Program distributes funding annually to local nonprofit and not-for-profit organizations as well as state, county, and municipal government agencies. Applicants must be in alignment with the needs of the community in the areas of economic development, education, infrastructure and safe, healthy and active communities.
This funding comes from Maryland's casino industry, which is mandated to distribute 5.5 percent of gross revenue to local impact grants. Cecil County is distributing nearly $250,000 to 39 organizations and agencies this year. The maximum grant award is $25,000.
"It is wonderful to receive this kind of ringing endorsement from the county in support of programs focused on workforce development. In talking with industry leaders, we know there is a growing demand for these types of skills, and this funding will enable us to meet that demand," said John Beck, Executive Director of the Cecil College Foundation.
This new equipment will be in place by mid-August, in time for the start of the Fall HVAC classes. Classes are held at the Cecil County School of Technology in collaboration with the Cecil County School District. The College can host 15-30 students, who will sit for the EPA 608 Certification Exam and the Heat Exam at the completion of the 10-month program.
"We have a long-standing relationship with the Cecil County School of Technology. Our combined efforts make a huge impact on the workforce in the region.  We share resources including lab space and classrooms. In some instances, we share instructors.  As new workforce needs develop, both organizations are committed to finding a solution," said Dean.