College takes proactive approach to educational opportunities
Published on June 13, 2019 under Academics, Faculty & Staff, General News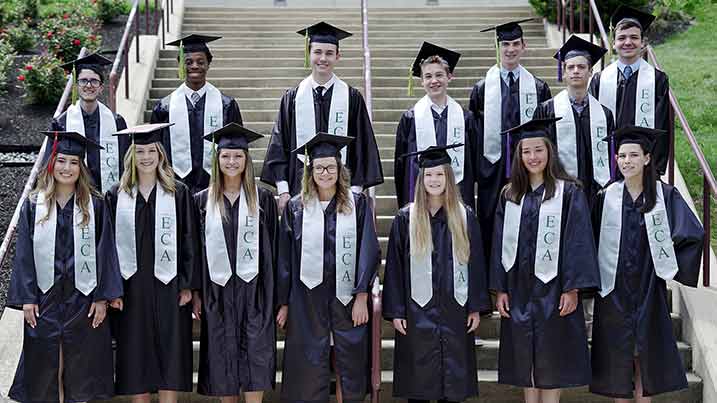 ---
NORTH EAST, Md. – Over the last decade, Cecil College has taken a proactive approach to expand its dual credit opportunities for secondary students. These actions led to the creation of the Early College Academy (ECA), which allows students to work toward an associate degree while still in high school.
The pilot program launched five years ago in partnership with the Oxford Area School District in Chester County, Pa. Students entering ninth grade with the highest academic performance qualify to register for this program. They start as freshmen and sophomores by taking introductory-level college classes and study skills training from Cecil College professors who travel to the high school. The teens take higher-level courses, such as statistics and composition, at the North East Campus – located just six miles away – during their junior and senior years.
In the spring of 2018, the first cohort of 15 Oxford students completed their high school diploma and an Associate of Arts degree in General Studies from Cecil College. Cecil College has been on the leading edge of a national trend for concurrent high school and community college learning, which is more prevalent in Midwestern and Southern states than on the East Coast.
For the 2019 Commencement Ceremony at Cecil College, the Oxford Area School District came out en mass to support the second cohort of students as they crossed the stage. With the success of these students, Cecil College now offers Early College Academy cohorts with Oxford schools, regional homeschool families, and in partnership with Cecil County Public Schools.
ECA is a pathway to shortening the higher education process, thus reducing the cost, and preparing students for a college environment at an earlier age. Currently, at least ten states require high schools to offer students a chance to earn college credits. A growing body of academic studies has generally found that dual-enrollment students perform better academically both in high school and in college, requiring less remedial work.
ECA has become a responsive opportunity in the region as Oxford has 89 students enrolled, there are 22 homeschooled students and more than 70 students from Cecil County as Perryville High School will begin a new cohort in the fall of 2019. The average GPA is 3.1 for college-level courses for ECA students.
Students who have graduated from Cecil College ECA have transferred to Millersville University, West Chester University, University of Pittsburgh, Pitt-Bradford-University of Pittsburgh, Drexel University, Messiah College, Penn State University, Penn State Harrisburg, Penn State Brandywine, Wilmington University, Towson University, Franklin and Marshall College, Delaware Valley University, Kutztown University, Bloomsburg University and Kansas State University.