Construction begins on practice facility
Published on June 19, 2018 under 50th Anniversary, Alumni, Athletics, Foundation, General News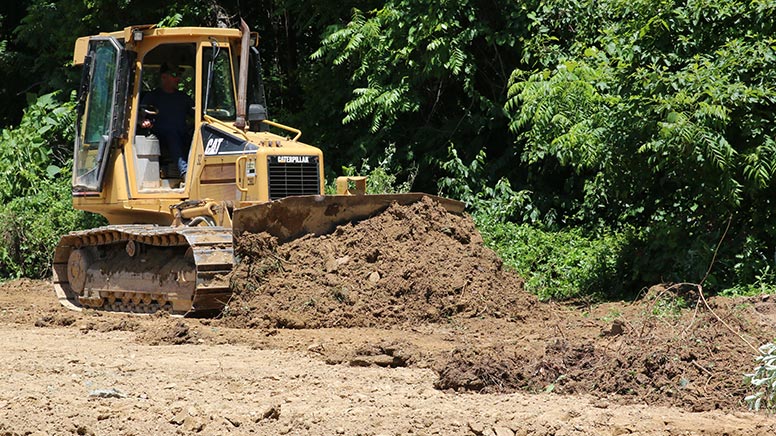 ---
NORTH EAST, Md. – It was an earth-moving week at Cecil College as the foundation for the new athletic building was laid, and equipment was busy preparing for the next phase. This addition to the North East Campus is befitting as Cecil College celebrates 50 years as the beacon of higher education in the county.
Through private donations, the Cecil College Foundation has raised funding for the purchase of a 60-foot by 120-foot pole barn structure (22 feet high) for an indoor practice facility. It will house the recently donated pitching machines for the baseball and softball teams, as well as soccer goals. The interior field surface will be artificial turf, allowing the College's summer camp programs to continue unabated during inclement weather.
The individuals making this vision a reality are Mark and Juliana Mortenson, who initiated the "stone soup" concept of gathering talent, financial and other resources to construct a building. Through their efforts, donations were collected to cover the cost of the construction. Mark Mortenson is the Foundation's 50th Anniversary Giving Campaign Chairperson and a member of the Cecil College Board of Trustees.
The Mortensons generously stepped forward to donate the funding for the pole barn structure and have continued to work tirelessly with business and community supporters to garner further donations of engineering plans, stone, trucking, site work, trades labor and more. McCrone engineering and design services provided a large portion of the cost for the development of the engineered plans for this project.
In this first stage of the construction, Stewart Companies donated the use of heavy earth-moving equipment along with covering the cost of fuel. Utilizing a Caterpillar D5 dozer, a  Caterpillar 953 Crawler Loader and Caterpillar CS433E Vibratory Smooth Drum Roller, the Stewart crew removed more than 20 loads of dirt to level and grade the site.
"This is a great show of faith in the college from businesses and individuals within the community," said Ryan Woerner, Vice President of Construction and Development Services Stewart properties, Inc."We are extremely busy this time of year, but we made time to do the project because the college means so much to the community."
After the site was graded, the Bobby Reynolds, LLC, trucking company donated and delivered 22 tons of stone. Reynolds is a Cecil College alumnus and a member of the Foundation's Board of Directors. This material was used to create a five-inch stone foundation on the leveled pad. Also making this stage possible was the Collette's Service Center, which donated its services to transport the heavy equipment to the North East Campus site.
The next phase will see augers boring holes for up to 40 posts and construction of the structure's shell.