Cooper named Senior Director of Information Technology
Published on March 31, 2021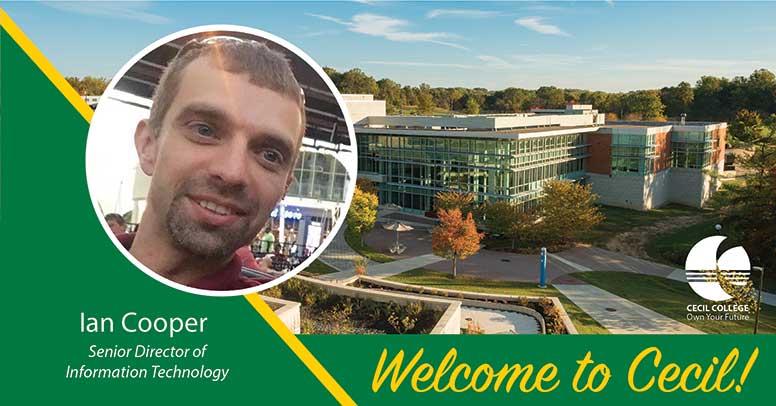 ---
Following an extensive search, Cecil College is excited to announce the promotion of Ian Cooper to Senior Director of Information Technology, as he brings more than 15 years of leadership experience managing diverse groups of Information Technology professionals.
Cooper holds a Bachelor of Science in Information Systems Management from Wilmington University, where he graduated with honors in 2011. He is finishing a Master of Science degree in Information Systems Management from Wilmington University.
Cooper will be the gatekeeper of the technology systems for Cecil College as the senior administrator of the computing hardware, software, and network infrastructure. He began his career at Cecil College in 2005 as a Helpdesk Technician and rose through the ranks, building upon his accomplishments of enhancing and improving the systems at the institution. He was promoted to IT Specialist in 2007 and IT Support Specialist in 2013 after developing new backup procedures that utilized the College's equipment to save the institution more than $5,000 annually.
His responsibilities continued to increase as technology played a larger role in higher education. In 2016, he was promoted to Director of Senior Systems Administration.
"Throughout my 15 years at Cecil College, I have always been proud to be a member of the IT Department. The team has always done exceptional work and operates as a unit, supporting each other. I am most excited to have the opportunity to lead such a wonderful team.  I look forward to guiding and helping each member overcome challenges and achieve their goals," said Cooper.
Cooper holds certifications and training certificates in software development frameworks such as DevOps and Scrum; cloud platforms including Microsoft Azure and Blackboard Web Services; various operating systems including Linux, MAC OS, Microsoft Windows, and UNIX; as well as databases such as Oracle, Spirion, DocStar, Solarwinds, Citirix, MalwareBytes, Quest backup, PulseSecure VPN, Jenzabar, and Shoretel.
Cooper's strengths as an administrator include devising technological solutions focused on customer service, efficiency, cost-effectiveness, continuity of operations, process automation, autonomic computing, and systems integration.
"I plan for the faculty and staff at Cecil College to utilize and leverage technology to overcome challenges. This can apply to many aspects within the College such as helping students complete their work from anywhere, providing new and different methods in which faculty can present their lessons, and turning manual processes into automated processes for administration staff," said Cooper, who is a resident of Avondale, Pa.
In his free time, he enjoys working on cars and bicycles, brewing beer,  and camping with his Boy Scout troop.