Davis-Robinson builds team unity, targets student success
Published on August 19, 2019 under Academics, Faculty & Staff, General News, Student Life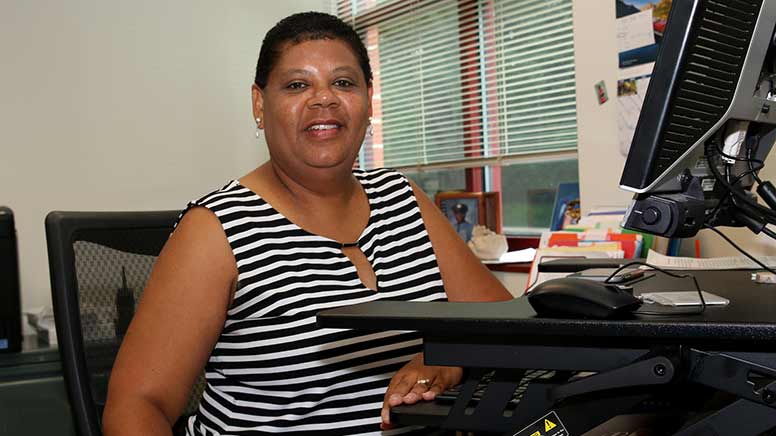 ---
NORTH EAST, Md. – As the new Director of Student Life at Cecil College, Cheryl Davis-Robinson is passionate about reaching out and working among a team of educators to ensure student success both in and out of the classroom. To that end, she has already begun to reach out to faculty, staff, and the administration to build teamwork focused on retention and academic success.
What drew Davis-Robinson to Cecil College was the commitment on the part of the institution to work collaboratively for student success. During the first month on the job, she has already engaged with students, faculty, and departments to create positive outcomes and partnerships.
"The commitment to retention and engagement are the throttle for Cecil College to perform its mission and goals for the students. Student Life plays a vital role in student retention by ensuring we have an early academic monitoring system in place. This system will help us to keep students on track in their studies," said Davis-Robinson.
With more than 25 years of experience, Davis-Robinson advocates for students to be solid citizens in school and the community. She believes in empowering them to become student ambassadors and spokespersons for the College and Cecil County. To further develop self-confidence, she encourages peer tutoring and peer mentoring, which also create a stronger student community.
"I would like to see Student Life be a leader in helping our students to be grounded within their communities, in their personal lives and be better citizens overall. By working with our students, we can create leaders who can step forward and promote the services Cecil College has in place to make everyone successful," said Davis-Robinson. "More engagement means more satisfaction, which leads to longer retention. Retention is about satisfaction and engagement."
The goal is to engage students during their first semester at Cecil by bringing services to them, as many tend to hold back in the new environment. As the relationship builds, students are further engaged with success stories and examples of their contributions to the college, thus creating a sense of connection and a sense of belonging. These strategies are especially useful with student-athletes as they become positive role models through their performance on the field as well as off.
Having worked 24 years in student life and engagement at the University of Delaware, Davis-Robinson has begun to implement some of the programs that were successful in building unity. The simplest is stepping out into the college community to inform students of the Student Life Office's location. She is not a believer in email communications as face time creates a much more impactful and meaningful impression.
"Through the cultivation of leadership and empowerment, the Student Life Office needs to be a place where students can identify and shape their academic and personal portfolio. We want them to maximize all the services that are available on campus. We need to help them grow and then let them grow on their own through phasing them into career partnerships, faculty intervention, and outreach," said Davis-Robinson.
As part of developing civic-minded students, Davis-Robinson would like to see public service promoted among a more significant portion of the student body through clubs and organizations. She suggests starting small with workshops and lectures to develop the interest while also creating a long-term strategy that may be tied in with a course.
Davis-Robinson is a native of Elkton, Virginia and earned her Associate of Arts and Bachelor of Arts degrees from Ferrum College. She continued her education at Indiana University of Pennsylvania, where she completed her master's degree. She currently lives in Middletown, Del., with her husband Emmett and son, Emmett Lee "Buddy" Robinson.