Dean's List for Spring 2023
Published on May 17, 2023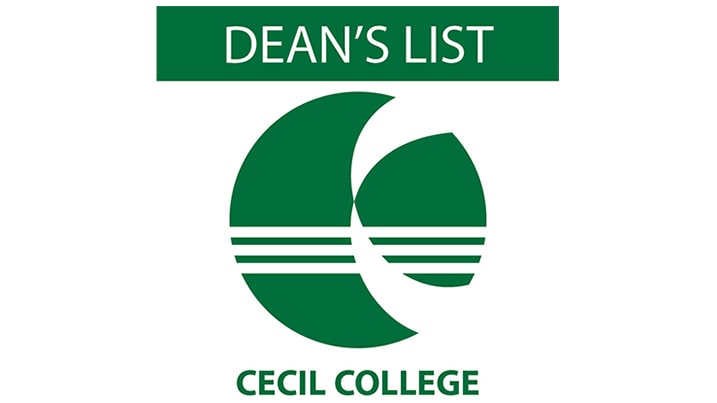 ---
NORTH EAST, Md. – Cecil College is proud to announce the names of students whose high academic performance has qualified them for recognition as members of the Dean's List for the recently completed Spring 2023 semester.
The Dean's List includes 148 students who achieved a grade-point average of 3.50 – 3.74 out of a possible 4.00. To be eligible for these honors, full-time students must have completed 12 or more attempted hours. Part-time students are eligible after accumulating 15 credit hours or more with a semester GPA of 3.50 – 3.74 for that semester. This award excludes any grade received for developmental coursework.
Cecil College is centrally located in Maryland's most northeastern county with campuses in North East and Elkton. The College features a diverse student population, with approximately 2,200 credit students and 2,300 non-credit students. Cecil offers associate degrees, certificate programs, and non-credit classes.
Included on the list are the following students:
| Name | Hometown |
| --- | --- |
| Mia Brown-Green | Aberdeen, Md. |
| Megan Pike | Aberdeen, Md. |
| Robert Taylor | Aberdeen, Md. |
| Marlayna Haug | Abingdon, Md. |
| Khara Truelove | Abingdon, Md. |
| Saahil Singh | Bel Air, Md. |
| Chelsea Henderson | Charlestown, Md. |
| Benjamin Leader | Chesapeake City, Md. |
| Emma Long | Chesapeake City, Md. |
| Ben Bagrowski | Colora, Md. |
| Christian Dolan | Colora, Md. |
| Emma Foard | Colora, Md. |
| Emma McCulloch | Colora, Md. |
| Devyn McMahan | Colora, Md. |
| Nicholas Van Bergen | Colora, Md. |
| Ashley Boyd | Conowingo, Md. |
| Samuel Nichols | Conowingo, Md. |
| Daemiah Allen | Elkton, Md. |
| Zachary Ayers | Elkton, Md. |
| Benjamin Barrett | Elkton, Md. |
| Hasan Bayram | Elkton, Md. |
| Kenneth Beresh | Elkton, Md. |
| Renee Berry | Elkton, Md. |
| Annaliese Bilsak | Elkton, Md. |
| Kira Bitler | Elkton, Md. |
| Tyair Burks | Elkton, Md. |
| Hannah Cole | Elkton, Md. |
| Richard Davies | Elkton, Md. |
| Alexis Detamore | Elkton, Md. |
| Matthew Egypt | Elkton, Md. |
| Trevor Eilers | Elkton, Md. |
| Collin Epperson | Elkton, Md. |
| Stefani Fitzgerald | Elkton, Md. |
| Shelley Granger | Elkton, Md. |
| Alexis Grant | Elkton, Md. |
| Anna Guzman | Elkton, Md. |
| Tanner Hailey | Elkton, Md. |
| Luke Hammer | Elkton, Md. |
| Amanda Haraldsson | Elkton, Md. |
| Makhi Harkins | Elkton, Md. |
| Tre' Von Harrington-Headen | Elkton, Md. |
| Destini Jobe | Elkton, Md. |
| Catherine Johnson | Elkton, Md. |
| Jena Jones | Elkton, Md. |
| Samantha Jones | Elkton, Md. |
| Fallon Katz | Elkton, Md. |
| Ethan Lambeth | Elkton, Md. |
| Matthew Lively | Elkton, Md. |
| Anne Lea Makam | Elkton, Md. |
| Zachery Meehan | Elkton, Md. |
| Jayci Mitchell | Elkton, Md. |
| Brandi Moir | Elkton, Md. |
| Lizzie Mull | Elkton, Md. |
| Tromarri Neal | Elkton, Md. |
| Liz Ortiz Castaneda | Elkton, Md. |
| Allison Pierce | Elkton, Md. |
| Aidan Pressler | Elkton, Md. |
| Amanda Rea | Elkton, Md. |
| Morgan Reynolds | Elkton, Md. |
| Heath Rodriguez | Elkton, Md. |
| Sarah Rodriquez | Elkton, Md. |
| Cameron Rogers | Elkton, Md. |
| Micaela Rogers | Elkton, Md. |
| Zane Romberger | Elkton, Md. |
| Aubrey Runyons | Elkton, Md. |
| Trinitey Sanders | Elkton, Md. |
| Daniel Santucci | Elkton, Md. |
| Julia Shafransky | Elkton, Md. |
| Nicholas Sheets | Elkton, Md. |
| Sandali Siriwardana | Elkton, Md. |
| Michael Stine | Elkton, Md. |
| Elijah Strickland | Elkton, Md. |
| Lea Termine | Elkton, Md. |
| Dakata Toney | Elkton, Md. |
| Lisa Vazquez | Elkton, Md. |
| Melinda Ward | Elkton, Md. |
| Lacey Wilson | Elkton, Md. |
| Dolrica Wright | Elkton, Md. |
| Theresa Yandell | Elkton, Md. |
| Jessica Young | Elkton, Md. |
| Jordan Tiller | Havre De Grace, Md. |
| Jake Highfield | Lincoln University, Pa. |
| Kaia Patterson | Lincoln University, Pa. |
| Logan Puckett | Lincoln University, Pa. |
| Patrick McNeilly | Middletown, De. |
| Kyle Stively | New Providence, Pa. |
| Lamont Washington | Newark, De. |
| Monica Aponte | North East, Md. |
| Brynn Barton | North East, Md. |
| Bhavanpreet Bhonsia | North East, Md. |
| Sarah Billingham | North East, Md. |
| Christen Denney | North East, Md. |
| Shelby Donaldson | North East, Md. |
| Megan Dvorak | North East, Md. |
| Sophia Faison | North East, Md. |
| Devin Fernandez | North East, Md. |
| Katherine France | North East, Md. |
| Ziad Hittini | North East, Md. |
| Boden Howell | North East, Md. |
| Ashleigh Kazor | North East, Md. |
| Michael Knorr | North East, Md. |
| Rebecca Kossek | North East, Md. |
| Hannah Liddick | North East, Md. |
| Cami Lyons | North East, Md. |
| Samantha McCarthy | North East, Md. |
| Kaylee Morales | North East, Md. |
| Nicolas Nuzzo | North East, Md. |
| Minal Patel | North East, Md. |
| Sarah Peterson | North East, Md. |
| Sarah Reilly | North East, Md. |
| Breahna Riess | North East, Md. |
| Saleemah Whack | North East, Md. |
| Teagen Ford | Nottingham, Pa. |
| Ryan Onick | Nottingham, Pa. |
| Emily Krivanich | Oxford, Pa. |
| August Testa | Oxford, Pa. |
| Dawn Culver | Perryville, Md. |
| Harlie Dipietro | Perryville, Md. |
| Rebecca Mason | Perryville, Md. |
| Quran Moamin | Perryville, Md. |
| Quintin Robinson | Perryville, Md. |
| Eva Cook | Port Deposit, Md. |
| Kylen Cooper | Port Deposit, Md. |
| Kameil Gaskill | Port Deposit, Md. |
| Andrew Gray | Port Deposit, Md. |
| Hannah Janney | Port Deposit, Md. |
| Glenn McCurry | Port Deposit, Md. |
| Amaya Murray | Port Deposit, Md. |
| Jessica Schisler | Port Deposit, Md. |
| Mikayla Sorrells | Port Deposit, Md. |
| Angela Washington | Port Deposit, Md. |
| Kara Lane | Quarryville, Pa. |
| Alyssa Barr | Rising Sun, Md. |
| Connor Finnan | Rising Sun, Md. |
| Aidan Hayes | Rising Sun, Md. |
| Nate Hornberger | Rising Sun, Md. |
| Hailey Hovatter | Rising Sun, Md. |
| Rebecca Jamison | Rising Sun, Md. |
| Ashley Jenkins | Rising Sun, Md. |
| Rebecca Kross | Rising Sun, Md. |
| Alexis Lassiter | Rising Sun, Md. |
| Connor McClintick | Rising Sun, Md. |
| Kelsey Roland | Rising Sun, Md. |
| Kevin Schuman | Rising Sun, Md. |
| Nathan Sexton | Rising Sun, Md. |
| Brandon Stever | Rising Sun, Md. |
| Ryan Spicer | Townsend, De. |
| Luke Wilson | West Grove, Pa. |