Demers named Director of Library Services at Cecil College
Published on August 6, 2018 under Academics, Alumni, Faculty & Staff, Foundation, General News, Student Life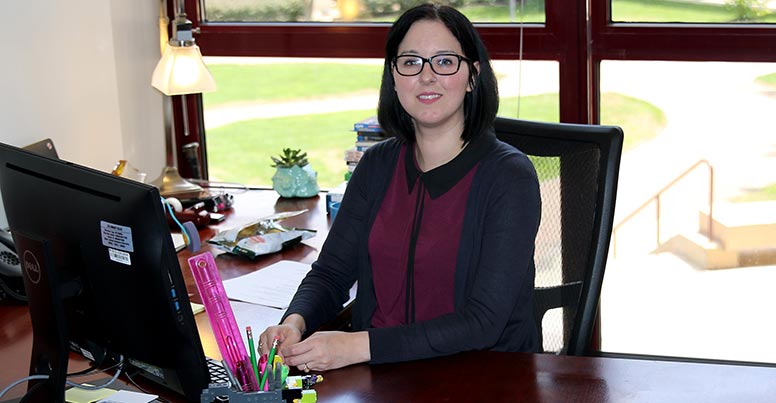 ---
NORTH EAST, Md. – Following a recent search, Cecil College is excited to announce the promotion of Amanda R. Demers to Director of Library Services, who will bring new and fresh ideas from the field of library science.
A native of Gloversville, N.Y., Demers holds a Bachelor of Arts in Anthropology from Hartwick College and a Master of Science in Library and Information Science from Syracuse University. She began her career at Cecil College in 2016 as a part-time adjunct librarian but was quickly elevated to Librarian of Acquisitions and Cataloging.
"As Librarian of Acquisitions and Cataloging, I focused on revamping our library collection. I took the lead on the installation of a new discovery system and online catalog that is more user-friendly for patrons and completed a giant weeding project.  With assistance from faculty, we ended up re-evaluating a number of books that were either outdated or unrelated to the curriculum and needs of the campus.  At this moment we have approximately 180,000 eBooks, 21,000 print books, and 64 databases," said Demers.  As she moves forward, Demers aims to have the College's library evolve and provide services and technology that continues to suit today's students and faculty.
"Today's academic library has to meet the constantly changing demands and needs of the 21st-century learner.  I hope to transform the library into a learning commons that aims to meet some of these needs head-on.  This starts with evaluating the services we provide, and collaborating with faculty and staff to discover how we can improve, and help our students on the road to success."
One area Demers hopes to continue with is textbook reserves. "We have a small reference budget that we are using to purchase some of the more popular or expensive textbooks. If we can help even a little by having a few textbooks available for use, it is one less thing a student has to worry about."
Another aspect of the learning commons Demers will be promoting is the services provided by Instructional Librarian Melissa D'Agostino. "Melissa is such an important resource.  She does so much for our students, and is our resident 'database, research, and citation guru'.  Whether it is helping a student find that perfect article for a paper, checking a citation, or helping narrow down a research topic – she is a priceless asset. We hope to promote her services to more students and faculty."
Demers currently lives in Delaware with her husband, Michael.