Dr. Dryer named Fellow of the Academy
Published on November 17, 2022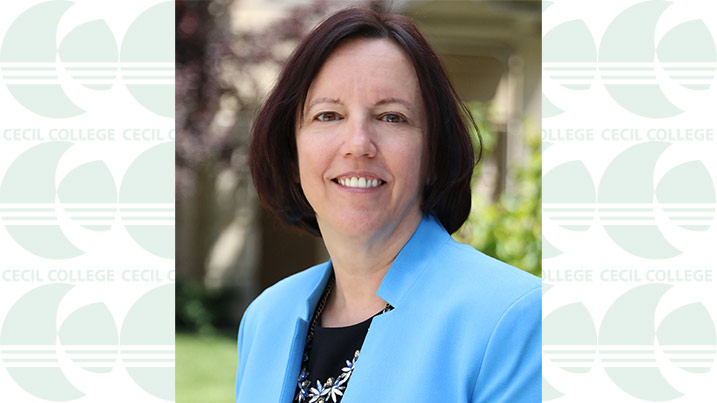 Dr. Christy Dryer
---
NORTH EAST, Md. – For an individual who downplays their accomplishments, it is left to their peers to remind us of the exceptional achievements that have benefited many lives. Under the guidance and support of Dr. Christy Dryer, Cecil College's nursing program has experienced immense success, becoming one of the most respected and coveted programs in Maryland among both two-year and four-year institutions.
In recognition of her work, as well as her commitment and advocacy for associate degree nursing, Cecil College's Vice President of Academic Programs, Dr. Dryer, has been selected for induction into the Organization for Associate Degree Nursing (OADN) as an honorary Fellow of the Academy.
"Your designation as a Fellow of the Academy is in recognition commitment and contributions to associate degree nursing (ADN) education for nearly 30 years. You have demonstrated a history of positively impacting ADN education through innovative strategies in teaching and learning, advocacy for the profession, research, and leadership," said Libby Mahaffey, Ph.D., RN, Chair Emeritus for the Academy of Associate Degree Nursing.
Dr. Dryer, who Dr. Matt Morris nominated, has been a steadfast advocate for associate degree nursing programs her entire professional career. She realized the value of two-year nursing programs as a staff nurse in New York State in the 1990s as regional hospitals struggled to find qualified staff. Along with her obligations to the hospital, she was an adjunct nursing instructor at the local community college.
"Nursing is my first love. I feel lucky to be involved with the advocation for an associate degree in nursing. One of my professional career highlights was writing a position paper in collaboration with the ANA (American Nurses Association), indicating that we cannot meet the workforce's needs without the associate degree in nursing. Evidence supported the position that the country cannot meet the workforce need and care of the population if we don't take steps now," said Dr. Dryer.
At the time of this position paper, the ANA was a strong proponent of the bachelor's degree requirement to obtain a nursing degree. This paper helped modify the ANA's position, highlighting the deficiencies within the educational nursing pipeline.
Currently, in the United States, associate degree nursing programs provide approximately 50 percent of the nursing workforce. In some regions, that number is as high as 70 percent because there are few other options.
"I fell in love with teaching and community colleges while working with these future nurses. I firmly believe in the opportunities community colleges provide," said Dr. Dryer. When she moved to the Fair Hill region of Cecil County with her husband in 2003, her love for teaching at the community college level led her to accept an adjunct position with Cecil Community College over an opportunity to work at the University of Delaware. "It wasn't even a choice for me. I knew I could be more impactful working at Cecil College."
While Dr. Dryer remains modest about her accomplishments as a nursing instructor, her pride for the students is reflected in her eyes. She taught as an adjunct instructor until 2006 when she was offered a full-time teaching position. A year later, she was named interim director of the nursing program before being elevated to the director, which she held until 2012.
During this time, she was busy outside the college, raising two small children and working on her doctorate at the University of Maryland. She earned her undergraduate degree in nursing from the Indiana University of Pennsylvania and her master's degree in nursing from the University of Delaware.
"As nursing has changed, Cecil College's nursing program has done a remarkable job of evolving. It is all the continual, incremental changes the faculty has implemented to reflect current practices and current standards that keep the Cecil nursing program relevant to current nursing practice. The faculty and staff are an amazing group whose dedication and commitment to the students is immeasurable," said Dr. Dryer, who became Dean of Nursing from 2012 – 2016.
Dr. Dryer was named interim vice president in 2017 before applying and obtaining the position in 2018. Under her leadership, Cecil College's nursing program remains approved by the Maryland State Board of Nursing and nationally accredited by the Accreditation Commission for Education in Nursing (ACEN). Cecil College is regionally accredited by the Middle States Commission on Higher Education (MSCHE).
Due to the nursing program's success of being among the highest performing schools in Maryland, with the highest National Council Licensure Examination (NCLEX) pass rate in 2015, 2016, 2018, and 2019, Dr. Dryer carries a lot of influence when meeting with public officials on healthcare topics.
"We are a small college, and because we are a small college, we are flexible in aligning our curriculum to the standards and procedures of the healthcare field," said Dr. Dryer, who emphasizes the nursing program's success to the faculty and staff. "The dedication of the faculty is a testament to the program."
Four of the six full-time members hold doctorate credentials. The nursing program is currently led by Dr. Nancy Norman-Marzella and the full-time faculty are: Assistant Director Dr. Roxanne Rash, Dr. Lauren Dawson, Amy Smythe, Dr. Shirley Gharbin, Mary Knarr, and Dr. Cynthia Horton. In addition, 11 adjunct instructors with advanced degrees are full-time practitioners in the medical field.
"I think our success comes from listening to the faculty, the students, the community, and the region and then striving to meet those needs. If you work in isolation, you don't hear anything but your thoughts. I have never thought I have all the answers. It is the dialog and discussion that gets you to the best answer," said Dr. Dryer.