Dr. Topping promoted the full college experience
Published on April 5, 2019 under Alumni, Athletics, Foundation, General News
---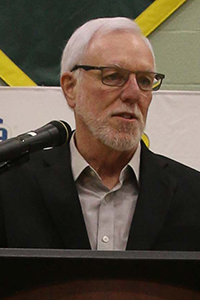 NORTH EAST, Md. – Providing the full college experience is instrumental to students' success in the classroom, according to research. Dr. Thomas Topping engaged this philosophy his entire career for student-athletes at Cecil Community College and Finger Lakes Community College. His work with student-athletes at Cecil during the formation of the athletics program back in the 1970s played a vital role in the success of the alumni.
"I have always had a student-first philosophy. We are here for the students," said Dr. Topping during his acceptance speech as a member of the inaugural Cecil College Athletics Hall of Fame. The induction ceremony was Saturday, March 30, when seven of the institution's icons were recognized. "If you send your students here, we will help them. We will motivate them. We will help them find things they didn't think they could do."
The Class of 2019 is comprised of pioneers who all had a hand in the creation, development, and growth of the Cecil athletics program. They include legendary baseball coach Charles "Dick" Brockell (posthumously); Cecil College's winningest men's basketball coach William Lewit; former Cecil College Board of Trustee member and executive director of the College Foundation Mary Maloney; former women's volleyball and basketball coach Mary Etta Reedy; longtime administrative assistant Shirley Weaver; and former assistant athletics director Thomas Wilhide.
Dr. Topping came to Cecil Community College from the Oxford Area School District in 1977 as a career and admissions counselor. There was a vacancy for the men's soccer program, which he also filled until 1982. It was during his early years in higher education that the college experience played a role in student success.
"When I started here, everyone I had interactions with taught me the concept of a community college and what the college meant to a community," said Dr. Topping, who spent 41 years in education and advocating on behalf of education as the foundation for a stronger community. "We are the community's base and will serve any student who comes here. We will help them be students and help them graduate."
Dr. Topping realized the athletics program needed funding to promote the mission of the college experience. In 1983, he formed the box soccer league that competed Saturday morning to help raise money that was put back into athletics. This league continued until 2004 when he left Cecil to take a vice president's position at Finger Lakes Community College in New York.
"Dr. Topping was an advocate for the student-athlete experience and the impact that community colleges can have on a student and the community. I have known very few people who were so dedicated and committed to not just student-athletes, but every student," said Cecil College Athletics Director Ed Durham.
"Tom always found a solution for a problem. He never threw his hands up and said 'I cannot help you.' He has always been student friendly and student oriented. He was setting the tone for the rest of the faculty members," said former Cecil College men's basketball coach William Lewit.
Dr. Topping went on to become division chair, assistant dean, and dean at Cecil. He retired from FLCC in 2014 and returns to the region frequently to visit his grandchildren.
"I truly believe in the concept of student engagement and the role athletics plays. The theory is, the more students are involved on campus in things other than classes, the more likely they are to stay and graduate," said Dr. Topping. "We will provide them opportunities along the way with athletics, theater, drama, clubs and all sorts of student associations. We are a community here as well as serving the community out there."
Dr. Topping was committed to following up with student-athletes in their course work to ensure they were not just successful on the court, but in life. In his words, "We do it because we love it. We love working with students."