Engineering faculty combine experience with expertise
Published on February 22, 2021 under Academics, Faculty & Staff, General News, Student Life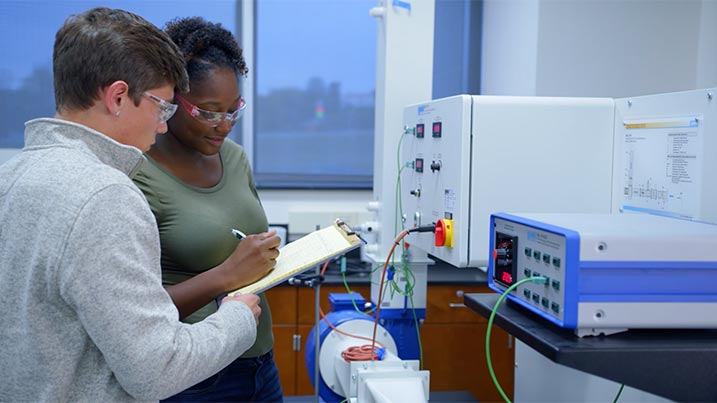 Students in the Engineering and Math Building studying engineering at Cecil College.
---
NORTH EAST, Md. – Housed within the only LEED Gold Certified building in Cecil County is the opportunity-laden engineering program at Cecil College, offering cutting-edge technology, high-tech laboratories, and highly skilled faculty.
Cecil College's Engineering and Mathematics Building is the hub for students interested in becoming the engineers of tomorrow as they hone the skills of analyzing and solving practical problems. Students develop a foundational understanding of the sciences, for which the two engineering degrees, with several concentrations, at Cecil College are based.
Cecil College offers an Associate of Science (A.S.) in Engineering for electrical engineering that focuses on designing and analyzing components and systems that utilize electrons and photons. Careers in this field include information technology and software development.
The second A.S. engineering program offers several concentrations for students wishing to pursue fields of study in aerospace, chemical, civil, computer, mechanical, and engineering science. While science looks at why things happen in the natural world, engineers use the answers from science to problem-solve plan, build, and create new inventions and ideas.
"Cecil College is well-equipped with all the technology resources needed for our students to be successful in their studies. We have a wide variety of fluid transfer and heat transfer equipment, including a wind tunnel for measuring the lift and drag due to airflow around just about anything you might want to study," says Associate Professor of Engineering Dale Schultz, Ph.D.
Enhancing the benefits of pursuing an engineering degree from Cecil College is the seamless transfer into the Frostburg State University's bachelor's program with a concentration in Materials Engineering. Students complete their freshman and sophomore level courses on the North East Campus of Cecil College. They continue their studies under the Frostburg State University curriculum through both virtual and in-person sessions held on the North East campus of Cecil College. The courses are taught by both Cecil and Frostburg faculty. Students can complete their bachelor's degree from Frostburg without ever leaving Cecil County.
"Our machine shop has everything the students need for their first-year engineering design course as well as the Frostburg State University seniors' Capstone Engineering Project," says Dr. Schultz.
The small class sizes, personal attention, and mentoring each student receives ensures the level of education and knowledge Cecil's A.S. graduates have is equal to or exceeds other programs within the region.
Amongst the long list of merits regarding the engineering program at Cecil College, perhaps its faculty, Dr. Schultz and W. Scott Hemphill, warrant a closer look. These two humble yet accomplished instructors enrich the student experience with their unique blend of differing expertise and diverse knowledge. Students directly benefit from the distinct yet complementary backgrounds, depth and breadth of industry experience, and individual teaching styles these two have on offer, which combine to provide a well-rounded curriculum and strong, foundational education.
Dr. Schultz holds a bachelor's degree in Chemical Engineering from the California Institute of Technology in Pasadena and a Ph.D. in Chemical Engineering from Massachusetts Institute of Technology (M.I.T). During his 21-year career with the DuPont Corporation, he oversaw the laboratory research and data development that advanced the company's impact on medical products, photopolymers, polyester, and nylon. Along with being the co-inventor on four patents, he managed a cost-effective supply chain strategy for team commercializing a new generation process for nylon intermediates.
Dr. Schultz is also certified in applied surfactant science and technology, OSHA training on hazardous wastes, biological treatment of contaminated soil and groundwater treatment of municipal, hazardous, and toxic wastewaters food microbiology, recombinant DNA methodology, and fermentation technology.
Hemphill earned a bachelor's degree in mechanical and structural engineering from the University of Delaware that led to a 20-year career as a project manager for some of the region's top firms. In 2004, he founded the ZS Technologies Engineering Firm where he holds five patents with a sixth application in the process. He is a four-time recipient of the Dow Chemical Composites Fabricator of the Year Award, as well as being presented the Delaware Department of Transportation Bridge Fabricator of the Year Award, Civil Engineering Research Foundation Charles Pankow Award and the Composites Institute Project of the Year Award.
Cecil College provides a multitude of transfer opportunities to other four-year programs at University of Delaware, University of Maryland in Baltimore City, and the University of Maryland.
The Engineering and Mathematics Building facility design and resources promote and enhance STEM education to prepare Cecil County's growing research and development industry professionals. Companies such as W.L. Gore & Associates, Clene Nanomedicine Inc., and Air Clear LLC, positioned along the Philadelphia-Baltimore corridor, are just a few of Cecil County's companies on the cutting-edge of R&D. Expanded opportunities arise through the partnership Cecil College has with Aberdeen Proving Grounds.
"There are a multitude of engineering internships and jobs available within the local business community, that are eager for Cecil students and Cecil graduates. Many local employers look for Cecil College graduates," said W. Scott Hemphill, Lecturer – Engineer.
For more information regarding the engineering programs at Cecil College, visit www.cecil.edu/stem or contact Admissions at 410-287-1006.