Esser named Dean of Arts, Humanities, and Commerce at Cecil College
Published on July 23, 2018 under Academics, Alumni, Faculty & Staff, Fine Arts, General News, Visual Communications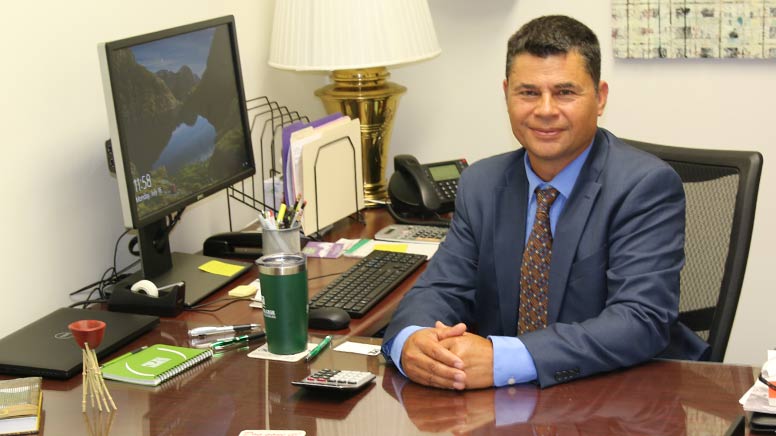 ---
NORTH EAST, Md. – Cecil College is excited to welcome Jon Esser as the new Dean of Arts, Humanities, and Commerce, who brings a wealth of knowledge and experience with more than 25 years in higher education.
Esser comes to Cecil from West Chester University, where he was the Associate Dean for the College of Arts and Humanities. Before that role, he was at the State University of New York's (SUNY) Purchase College, serving in a variety of roles such as Associate Dean for the School of Arts, Coordinator of the Arts Recruitment program, and Assistant Dean for the School of Art and Design.
"Community colleges are at the forefront of American higher education, with a lot of emphasis on workforce preparation and job training. I want to be part of that experience.  I want to play a role in helping students find the path they are looking for," said Esser. "I value education just for the sake of knowledge in and of itself, but I recognize that the motivation for a lot of people coming into an educational environment is particularly to advance themselves. That first step of going beyond high school is what I want to be a part of and feel I can ameliorate and enhance."
During his three years at West Chester University, Esser was responsible for the creation of a minor track in Arts Entrepreneurship with the assistance of the art faculty along with the development of a new minor and a new major in Media and Culture. He also identified studio space on campus for graphics and interactive designers and worked to broaden student access to audio and video production and post-production facilities.
Outside of the academic realm, he was instrumental in establishing a food POD (Provisions on Demand) in the E.O. Bull Center for the Arts to serve the needs of faculty, staff, and students in the visual and performing arts.
"Jon brings a strong background in higher education to this role at Cecil. He believes in collaboration across academic disciplines and hopes to bring that experience to Cecil to develop new and exciting opportunities for our students," said Dr. Christy Dryer, Vice-President of Academic Programs.
Prior to West Chester University, Esser was an art faculty member and administrator for more than 20 years at SUNY Purchase. In 1995 he helped the School of Art and Design attain National Association of Schools of Art and Design (NASAD) accreditation, and in 2002 he was among a group of faculty from art and design, film, music, and computer science who established an interdisciplinary major in New Media.
Five years later, he was appointed as the inaugural chair of the Arts Management major, the first arts business program at SUNY Purchase.  During his tenure as chair, the program's enrollment grew significantly for. He was also tapped as an academic consultant at SUNY Purchase in the design phase of the Center for Media, Film, and Theatre, currently under construction.
Esser trained as a NASAD program evaluator and consultant, serving as an external evaluator of programs in the visual arts at more than 30 colleges and universities nationwide.  Esser served as a member of the Council of Arts Deans and Chairs (CADC) for the State University of New York.  He was a founding member of the Consortium for the Liberal Education of Artists (CLEA), a national organization that he co-chaired from 2000 to 2010.  He is also a member of the Council of Colleges of Arts and Sciences (CCAS).
Esser holds a Bachelor of Fine Arts in Visual Arts from SUNY Purchase College, and a Master of Fine Arts in Visual Arts from Brooklyn College, CUNY. Prior to completing his degrees, he studied art at the Kunstgewerbeschule der Stadt Bern in Switzerland.