Exhibit focuses on 'Microplastics' pollution
Published on September 1, 2021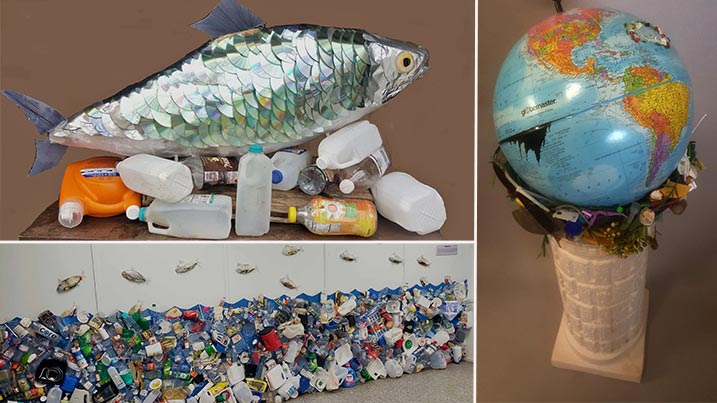 ---
ELKTON, Md. – Dominic "Nic" Galloro has always been fascinated by how shapes and objects organically appear in nature and intertwine inherently to form entities of beauty, whether it be an animal, a leaf, or a babbling brook. This connection to nature helped him develop a powerful bond with the environment, which is reflected in his artwork.
Galloro's latest exhibition, "Microplastics," highlights the impact humans have on the Susquehanna River and the Chesapeake Bay by revealing the effect plastics are having on the environment. Galloro has skillfully crafted his artwork from the plastic materials he found along the shorelines of the bodies of water to expose the extent of environmental impact.
"I have always used recycled natural materials to create my artwork. This is just an extension of that concept. At first, I didn't have a concept in mind, but I looked at those pieces as design elements to see if they could somehow work together to make a unified composition," said the Havre de Grace resident.
Galloro's "Microplastics" exhibition is slated to open at the Elkton Station Art Gallery on Saturday, Sept. 18, with an opening reception slated for Friday, Oct. 1. This exhibition will be on display through Nov. 18, with gallery hours of Monday through Thursday, 8 a.m. – 8 p.m., and Friday from 8 a.m. – 4:30 p.m.
"Only recently have I begun to use art as a way to make a statement, and this is an easy statement for those viewing it to understand. I thought, 'let's use art as a visual language to make a statement about the impact of plastics on the environment.' I have been an environmentalist since I was a kid when you could collect soda bottles for a nickel," said Galloro.
Galloro is not alone in his quest to help the Chesapeake Bay. He is a member of Citizens Against Trash, also known as the CAT Club, who have met every Saturday at 8:30 a.m. at the Concord Point Coffee House in Havre de Grace for the past seven years. From there, the group heads out to pick up trash that has washed up along the shoreline as well as litter throughout the town.
"I know things can be washed down the drain or go down the street to the water. To me, that was very concerning. As I picked up things, I kept the plastics and put them together as sculptures to make a statement about it all," reflected Galloro, who has been an artist his entire life.
Before retiring to Havre de Grace several years ago, Galloro was an art teacher for more than 20 years in Montgomery County and volunteered to be the school's sustainability "czar" responsible for educating the students on the benefits of recycling. As an art teacher, he worked to introduce students to the tools and methods in order to refine their vision.
The exhibit's centerpiece is a wall of floating plastic items, pulled from the Susquehanna and Chesapeake Bay, attached to boards representing water. Jumping out of the water are fish composed of small plastic bits held together by Venetian blind scales and pieces of vegetable net bags.
"A lot of artists visualize in their minds and work things around. As an art teacher, you try to get students to conceptualize what they are trying to say, to articulate a statement. To give them the tools they can work with," said Galloro.
Another impactful piece is his "Sargasso Sea" sculpture, a globe cradled in a bed of bottle caps, pull tops, and other small plastic containers. The inspiration for this piece came from his time in the Navy as a sonar operator when his ship traveled through the Sargasso Sea, a region of the Atlantic Ocean bounded by four currents forming an ocean gyre. An immense island of trash swirling within the Sargasso Sea pulls in the trash dumped in the ocean.
"I have seen film of it since where there is more trash than ever, and it circulates in a giant eddy. So, I wanted to make the comparison that the whole earth is the Sargasso Sea. Surrounded by plastic trash," said Galloro, whose exhibit began its road tour at the Havre de Grace Maritime Museum earlier this year. "I sometimes feel like I am an urban archeologist."
A placard containing two articles about pollution in the Chesapeake Bay ushers visitors into the exhibit.
The meaning behind Galloro's artwork is meant to be disturbing in the viewer's minds, so current generations are uncomfortably aware this is happening in the environment. A corollary hope is to make the next generation aware of what plastics and trash do to the environment.
"It comes full circle when I hear someone say, 'oh my gosh. Look at that. Look at that. This is what's happening to the earth?' I want that reaction," said Galloro. "I think we have made the kids realize that waste needs to go into one place and recyclables need to go into another place. I want young people who come to see this exhibit to pick up that habit and understanding."