Faculty, staff honored for advancements in STEM education
Published on April 23, 2021 under Academics, Alumni, Faculty & Staff, General News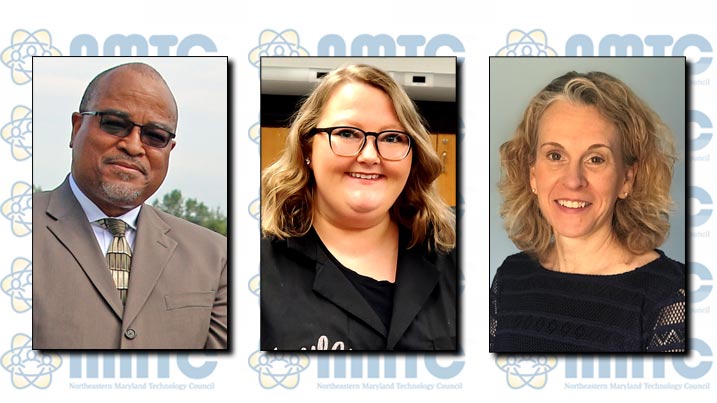 ---
NORTH EAST, Md. – The Northeastern Maryland Technology Council bestowed high honors upon three Cecil College faculty and staff members for their STEM education work. Those honored this spring at the Tenth Annual NMTC Visionary Awards were Associate Professor James Morgan, Ph.D., Professor Kimberly Sheppard, and Science and Engineering Lab Coordinator Kayla Ross.
NMTC connects collaborative leaders in academia, industry, and the federal government to build a STEM-educated workforce and advance innovation and technology to expand the state's economy and protect national security. The 2021 Visionary Awards Gala was held virtually on Thursday, April 22.
Dr. Morgan received the Leader Award for his consistent contributions to building Maryland's STEM-educated workforce in cybersecurity while inspiring others to accomplish shared goals. Sheppard received the Innovator Award for developing and implementing innovative mathematics programs, creating a positive impact on Maryland's STEM-educated workforce. Ross received the Rising Star Award for demonstrating the potential to be an excellent, long-term contributor to building Maryland's STEM-educated workforce.
Under the leadership of Dr. Morgan, Cecil College's cybersecurity program was designated a National Center of Academic Excellence (CAE) in Cyber Defense Education by the National Security Agency (NSA) and the Department of Homeland Security (DHS) in 2019. Cecil College was the seventh community college in Maryland to hold this certification. There are only 270 colleges and universities across 48 states, the District of Columbia, and the Commonwealth of Puerto Rico designated as CAEs in cyber defense.
"This designation means our cybersecurity program's stringent academic criteria reaffirms our commitment in the fields of Information Assurance and Cyber Defense education," said Dr. Morgan. "The United States government will continue to invest in and enhance programs that build the domestic talent pipeline, from primary through post-secondary education."
To become a CAE-CD institution, Cecil College demonstrated its commitment to providing high-quality education in professionally relevant fields. Cecil College's designation in cyber defense extends through the academic year 2024.
Cecil College's Associate of Applied Science degree in cybersecurity prepares students to enter the workforce or transfer to a four-year institution for continued cybersecurity study. Students demonstrate proficiency in a programming language as well as securing Windows and Unix/Linux server and clients, routers, firewalls, email, networks, and other network security appliances and software. They also have an opportunity to earn their A+ Certification, Network Certification, Security+ Certification, and Cisco Certification before graduation.
With an A.A.S. degree in cybersecurity from Cecil College, students are certified to enter the workforce as network, forensic, or computer security experts, or choose to continue their education in a bachelor's degree program.
Sheppard, the Mathematics & Engineering Department Chair at Cecil College, led a team of mathematicians who re-envisioned the math developmental education program, which holds the potential to increase students' interest in entering STEM programs. Sheppard's team streamlined the developmental math sequence, leading to a 30 percent increase in developmental course completion.
Additionally, the team addressed the skyrocketing cost of course materials for students. During research conducted over five years, Sheppard's team found that math-related materials were cost-prohibitive to many students. Without the book and other classroom resources, students are less likely to master the class material. Sheppard championed changes to ensure that the cost of class-related resources was not a barrier to success.
These changes included creating and implementing open-source course materials that eliminated textbooks that ranged in cost from $300 – $600 — reducing costs to under $50 for many of the open-source materials. Cecil College's mathematics department continues to research pathways to reduce costs further.
"This award reflects well on the entire math department as we all worked on these projects collectively and collaboratively. I think we are all driven and motivated by our students. We want to see them be successful, and we try to eliminate barriers to success," said Sheppard.
Along with slashing expense barriers, Sheppard's team has reduced the total number of credit hours students have to remain in developmental math programs from 11 credits to four credits, depending on the individual student's needs. This work covers the entire developmental math sequence (MAT 096, MAT 097, MAT 098), Statistics MAT 127, Precalculus MAT 121, and Discrete Structure MAT 236.
By addressing the fundamental developmental issues discouraging students from entering STEM fields, Ms. Sheppard and the mathematics department at Cecil College expect see a continued increase in interest, retention, and diversity in all STEM programs.
Ross was instrumental in Cecil College's development of an Associate of Applied Science in Bioproduction, recently approved by the Maryland Higher Education Commission. The program accepted its first students in spring 2021. Ross was a crucial contributor in the development of the bioprocessing/biotechnology curriculum and led the research for equipping Cecil College's bioproduction labs with cutting-edge instrumentation. This equipment includes FPLC Liquid Chromatography, a Bioreactor, an Inverted Microscope, and a Metabolite Analyzer.
"This has been a team effort between Veronica Dougherty (Dean of STEM at Cecil College), Christine Warwick (Assistant Professor of Biology), Christy Dryer (Vice President for Academic Programs), and myself. I used information learned from my master's program and experience to help develop this program," said Ross, who is teaching BIP 101's lab this spring.
Ross is an alumna of Cecil College, graduating with degrees in general studies and biology. She went on to earn a bachelor's degree in laboratory management with a minor in biology. As a student, Ross was a peer tutor, while her summer internship exposed her to real-life science and engineering lab experience. She is currently completing a master's degree in biotechnology with a specialty in biotechnology management.