Falko to play at Gardner-Webb University
Published on April 2, 2020 under Alumni, Athletics, Faculty & Staff, General News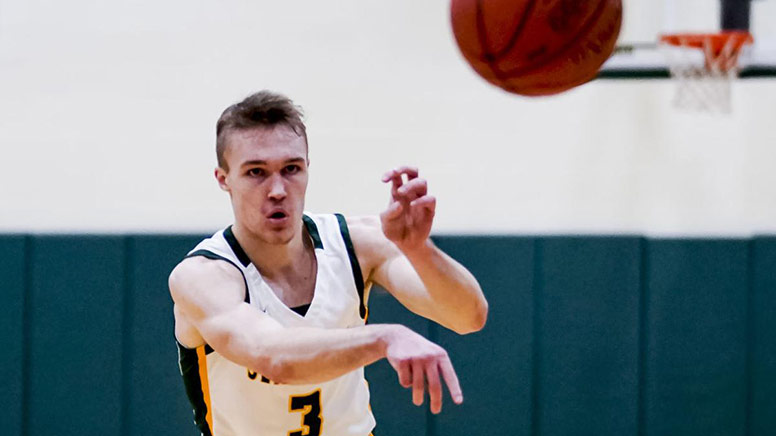 ---
NORTH EAST, Md. – The Cecil College men's basketball program is excited to announce that standout Jacob Falko has signed a letter of intent to continue his collegiate career at Gardner-Webb University in North Carolina.
"It was the spot for me where I can have an impact coming in right away," Falko was recently quoted as saying. "It's a winning program – they were just in March Madness last year. I wanted to come in and win and play right away."
The Division I Gardner-Webb University Runnin' Bulldogs are a member of the Big South Conference. The team qualified for the NCAA Tournament for the first time in 2019, where the Runnin' Bulldogs fell to eventual national champion Virginia in the opening round.
Located in Boiling Springs, N.C., Falko joins the Runnin' Bulldogs along with high school standout Jamaine Mann, the first-team Class 5A All-State player from Georgia, for the 2020-2021 season.
"Jake's hard work and dedication paid off for him. He truly epitomizes what it means to work hard every day not only on the court but in the classroom as well. He will graduate in May with his degree," said Cecil College men's basketball head coach Ed Durham. "The entire coaching staff (Brian Selby, Mike Jerome, Kendrick Sumpter) appreciate Jake's efforts."
During his two years on the Cecil College men's basketball team, Falko scored 1,143 points and was named the Maryland Junior College Athletic Conference Athlete of the Month three times during his sophomore season in November, January, and February.
The accolades continued in the postseason when he was named Maryland JUCO Conference Men's Basketball Offensive Player of the Year, All-Maryland JUCO First-Team, and All-Region XX Division II First-Team as a sophomore. This past season, Falko averaged 23.7 points per game while shooting an impressive 62 percent from the floor. From beyond the arc, he shot 43 percent.
A native of North East, Md., and a product of Tri-State Christian Academy, where he scored more than 2,000 points and was named Cecil County Player of the Year in his junior and senior season, Falko plans to expand on the accounting degree he earned from Cecil College.
"Jake is coachable and a great teammate, but an even better person. He represented Cecil College in the highest manner, and we should be proud of that. Gardner Webb is getting a great student athlete," said Durham.
Gardner-Webb University is a Christian-related institution that provides outstanding undergraduate and graduate education firmly grounded in the liberal arts while offering opportunities to prepare for various professions.