Fall 2021 Art and Design Student Exhibition
Published on December 10, 2021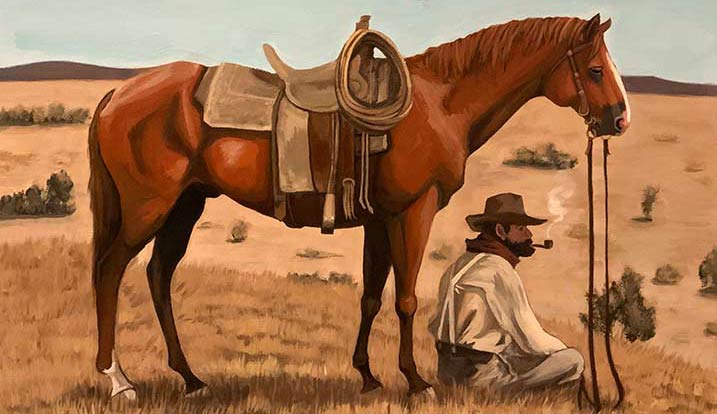 Horse and Cowboy by Kellie Huller, acrylic on canvas, 16 in x 24 in.
---
ELKTON, Md. – The Cecil College Art and Design Program is excited to announce the Fall 2021 Art and Design Student Exhibition on display in the Elkton Station Gallery that highlights works by Port Deposit native Kellie Huller.
Huller created two- and three-dimensional pieces throughout the pandemic and into the fall semester in preparation for her Capstone Project. These projects are long-term investigative ventures that culminate in a final portfolio.
"Growing up in rural Cecil County has been a genuine inspiration to me as an artist with all of its great sources of varied landscapes," said Huller, who will be completing her associate degree in May. "One of the significant influences in my development has been the natural world, from fields and forests to pebbles and bones."
Port Deposit is a small, charming town seated on the banks of the Susquehanna River comprised of rolling hills, farmland, and residential homes. As a homeschooled student, Huller's exposure to Mother Nature's beauty was extensive due to Port Deposit's magnificent scenery.
"Since I was a small child, I have been enamored with nature. From the minute details of how a snail shell curves into itself, to the majesty of the Grand Canyon, to mysterious ocean-dwelling creatures, there are endless phenomena to fascinate the mind. From this, my portfolio is largely made up of nature, wild and domestic animals, and landscapes," said Huller.
There are several artists from whom Huller draws inspiration. The late television personality and artist Bob Ross' ability to create picturesque landscapes of towering mountains over calm lakes and forests with just the flick of the brush heightened Huller's imagination, as did the psychedelic illustrations of Ikegami Yoriyuki. His mesmerizing paintings capture a carefully balanced mixture of delight and mystery through color usage.
Huller's portfolio displays a range of polychromatic color schemes in which contrasting colors are layered, usually involving bright primary hues.
"My sculpture and ceramic works are inspired by organic forms found in the natural world. I greatly appreciate how the English sculptor Henry Moore kept natural items such as pebbles, bones, and driftwood in his studio for inspiration. I have my small collection of found items and natural objects that inspire me," said Huller, who sees her work as an ever-growing collection of tributes to the natural world.
Huller's work projects a diverseness seldom seen among exhibitions. Along with landscapes, she is drawn to the imagery of food themes—specifically the celebration of food in all its dimensions. She has always been drawn to illustrations of food, specifically ones that exaggerate its aesthetically pleasing qualities to make the viewer hungry. Huller gains inspiration for these works from contemporary American painter Wayne Thiebaud who is known for his delightful oil paintings of pastries and desserts which also utilize a range of bright contrasting colors.
The Fall 2021 Art and Design Student Exhibition is now open for public viewing in the Elkton Station Gallery. The gallery hours are Monday – Thursday, 8 a.m. – 8 p.m.; Friday, 8 a.m. – 5 p.m.; and Saturday, 9 a.m. – 5 p.m. Due to the pandemic, there was no opening reception for this exhibition. The exhibit can also be viewed virtually by visiting the Cecil College Art Galleries on Flickr.
For more information about the arts at Cecil College, visit arts.cecil.edu.