Falling Leaves Festival is Nov. 2 & 3
Published on October 27, 2018 under 50th Anniversary, Alumni, Faculty & Staff, Fine Arts, General News, Student Life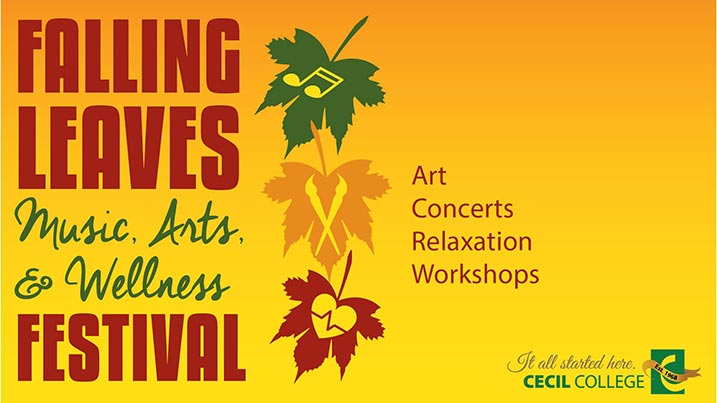 ---
ELKTON, MD. – As the autumn chill causes people to stray from outdoor activities, Cecil College is bringing the season indoors for its Fourth Annual "Falling Leaves Music, Arts, and Wellness Festival" on Friday (5 – 9 p.m.) and Saturday (10 a.m. – 6 p.m.), Nov. 2 – 3, at Elkton Station.
The collaborative effort between Cecil College's art, music, and lifelong learning programs will feature live musicians performing throughout the day; artists and artisans showcasing a variety of work and unique products; vendors to meet guests' craft and holistic needs; workshops on a variety of topics; and children's activities.
Artists include Babette Becker; EMC Creates – Erin Cebula, Erica Harney; Mary Tale Artworks – Mary Jardin Wimberley; and Cecil College art students. Stop by the ceramics studio to see Cecil College's ceramics students participate in this semester's Throw-a-Thon. The pieces created will support future Empty Bowl Events at Cecil College and the Newark Senior Center.
Music performances include Battle of the Bands and Soloist Showdown from Noon – 2 p.m. on Saturday as well as performances in the lobby by Cecil College music students. TenFest, a ten-minute play festival featuring Cecil College theater students, is scheduled for Friday and Saturday evenings at 7 p.m.
Vendors include Angel Communication, Aurora Reiki & Ion Foot Detox, Boricua Blingers, Coffee Karma Cafe, Creations by the Creator, GrahamTastic Hypnosis & Reflexology, I am the Seer, Juice Plus & Tower Garden, MD Satsang Society, Paparazzi, Pure Light and Truth, Reader of Runes, Readings by Dino, Sinking Springs Herb Farm, Spirit of Rose, and Young Living Essential Oils.
Design a Handprint Turkey, Create a Fall Wreath or Swag, Fall Theme Slate Painting, Harry Potter, Kids in the Kitchen, Pokémon, Within Each of Us, and Watercolor are featured workshops.
Visit vendors free of charge, $5 admission for workshops, free for children 10 and younger. Admission to the evening performances of TenFest is $10 for guests who are attending the festival ($15 for the general public).
Food, beer, wine, soft drinks, and vendor merchandise will be on sale at the festival. For more information, email learning4life@nullcecil.edu or call 443-907-1378.