First-generation student finds passion at Cecil College
Published on February 15, 2019 under Academics, Faculty & Staff, Fine Arts, General News, Student Life
---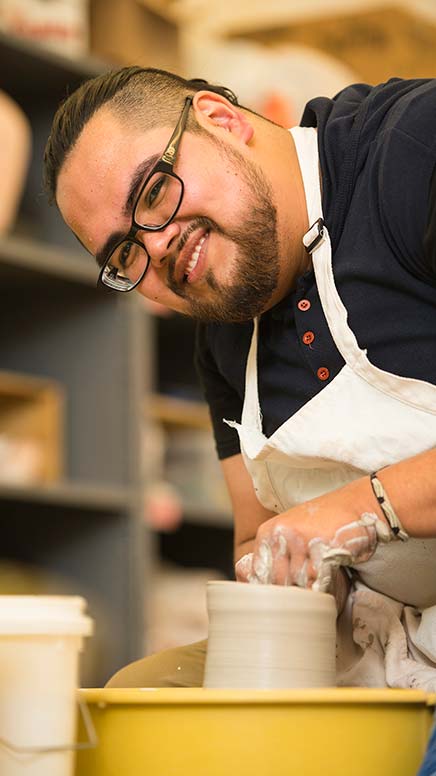 NORTH EAST, Md. – There is a growing trend of first-generation college students in the United States, with community colleges catering to the highest number of this population. These students are predominantly from low-income backgrounds, facing financial, academic and social barriers.
Oscar Zarco is proud to be the first person from his family to be enrolled in college and is scheduled to graduate this May from Cecil College with Associate of Arts degrees from the Art and Design programs with concentrations in graphic design and ceramics.
"I am very proud to be the first member of my family to attend college. I also realize the responsibility it puts on me to do well after all the hard work my parents did to give me this opportunity," said Zarco, whose brothers did not complete high school as they went to work to support the family. "This is big."
Data from the Department of Education classified 25 percent of white and Asian-American students as first-generation students. In contrast, 41 percent of African-American and 61 percent of Latino students belong to this demographic. Zarco is of Latino heritage.
Zarco, who has lived in Elkton, Md., since he was eight years old, has a shy, quiet personality but speaks volumes through his creative work in the classroom. He came to Cecil College with an interest in graphic design but found his real passion while taking an elective in pottery. That is when he began to research and study the craft of artistic pottery.
"I really like Maria Martinez who is an indigenous potter. I feel that my style is similar to her style because I try to go for simplistic, modern shapes. I don't like to go heavy on decoration. If I feel the piece needs something else, I will go for it but I prefer the simplistic approach," said Zarco, whose work has caught the attention of his peers and instructors.
He was most recently featured on the cover of the credit course schedule at Cecil College as his reputation is developing. With friends and family contacting him with the question: "Who is that man behind those Foster Grants?" his confidence in his work and reputation is growing.
"My instructor Lauren Vanni put my name out there for the photo shoot, something I would have never done. It is a weird feeling seeing myself on the cover of the catalog, but then seeing the excitement and how proud my family and friends are has helped boost my self-confidence. It is helping me get out of my shell," said Zarco as he works on his portfolio for admittance to Temple University.
"Right now, I am focusing on my ceramic work; the thing I enjoy doing. But I am also trying to find a place to integrate my graphic designs skills into my pottery, which Mark Donahue is helping me figure out," said Zarco, who feels Cecil College was the right venue for him to discover and nurture his talents and skills. "The support system and how passionate the professors and staff are has made it easy."
Along with discovering techniques to merge these media, he is expanding his knowledge regarding  the limitations of various materials such as the different properties of clay, chemical properties of the glaze, and what can be accomplished. He prefers working in earth tones and deep blues, which to him represent peace and freshness.
This past year, he participated in a Cecil County Arts Council show and other exhibits to increase his exposure to a broader audience. Upon completing his bachelor's degree, his dream is to manage and own a pottery studio.