Fornwalt named Assistant Athletic Director
Published on September 15, 2022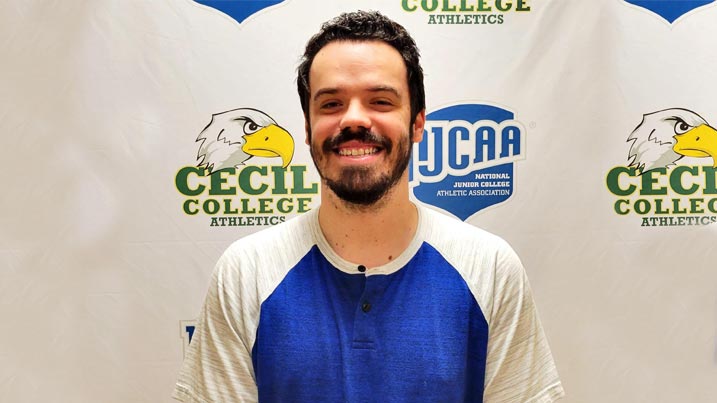 ---
NORTH EAST, Md. – As the Seahawks' athletic programs take flight this fall, Cecil College welcomes aboard Adam Fornwalt as the new assistant athletic director and sports information coordinator. Fornwalt will be responsible for assisting Cecil College's Athletic Director, Ed Durham, with the overall management of the intercollegiate athletic program.
His duties will also include the supervision of all paid and volunteer coaches, equipment managers, and trainers, along with developing the intercollegiate athletic schedules and officials' schedules for all contests. He will aid in coordinating support personnel for all athletic contests, including game management, ticket sales, security, athletic trainer, and emergency personnel and apparatus.
As Cecil's sports information coordinator, Fornwalt will monitor and produce content for the Seahawks' social media platforms and the cecilathletics.com website. Fornwalt is a native of Cecil County, having graduated from North East High School in 2012.
Before coming to Cecil College, Fornwalt worked as the Manager for Sports Information and Game Operations at Harford Community College in Bel Air, Md. He served as the primary media contact for Harford's 13 NJCAA teams and assisted in recruiting and fundraising efforts for the Fighting Owls. He managed all aspects of Harford's home game operations and generated in-depth notes, previews, and recaps for every contest. Fornwalt also oversaw all social media content produced by the athletic department.
Fornwalt holds a certificate in sports broadcasting from the Broadcasting Institute of Maryland and earned an associate degree in visual communications from Cecil College in 2015. He completed a bachelor's degree in sports management from Liberty University in Lynchburg, Va., and is expected to complete a master's degree in sports administration from Liberty University in 2023.