Garvin signs to play for Lock Haven University
Published on May 15, 2018 under Alumni, Athletics, Foundation, General News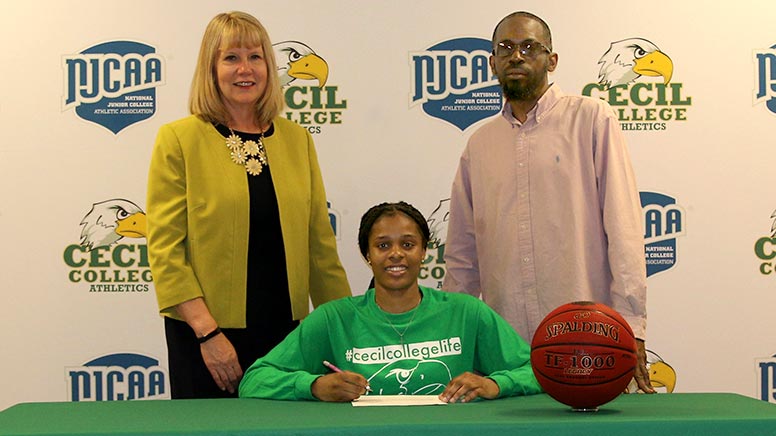 ---
NORTH EAST, Md. – On the heels of a successful campaign that lead to the national tournament, Cecil College is proud to announce a second women's basketball player has signed a National Letter of Intent to continue their career at a four-year university.
Sophomore Tiana Garvin signed a National Letter of Intent to play women's basketball at Lock Haven University of Pennsylvania on Thursday during a ceremony in the Physical Education Complex on Cecil College's North East Campus. She was joined by her father Vernon Garvin, Jr. and Cecil College President Dr. Mary Way Bolt.
"What attracted me to Lock Haven was its similarity to Cecil College. I like that the classes were small and I could see myself fitting in there. Also, the coaching staff was nice, and I could see myself fitting into the program," said Garvin, who is leaving Cecil College with an associate degree in general studies. She is enrolling at Lock Haven University in the Sports Management Program.
A native of Philadelphia, Garvin finished the 2017-18 season first on the team with 2.2 steals per game and third on the team with 7.8 rebound per game. Garvin shot 53.6 percent from the floor and totaled 383 points in one year as a Seahawk. With her help, the Lady Seahawks finished with an overall record of 23-7.
Garvin finished her career at Cecil College as an NJCAA Region 20, Division II Champion and First-Team All-Region 20 selection. The Seahawks advanced to their first trip to the NJCAA Division II National Tournament in Harrison, Arkansas. Academically, Garvin is positioned to be selected as an Academic All-American later this month.
Lock Haven University is a four-year NCAA-sponsored Division II institution and competes in the Pennsylvania State Athletic Conference (PSAC). Last year the Bald Eagles posted an overall record of 5-21 and 4-18 in PSAC action.
Cecil College's Alexis Stubblefield signed a National Letter of Intent to play women's basketball at Goldey-Beacom College last week.