Gates continues collegiate athletic career at Slippery Rock University
Published on April 29, 2022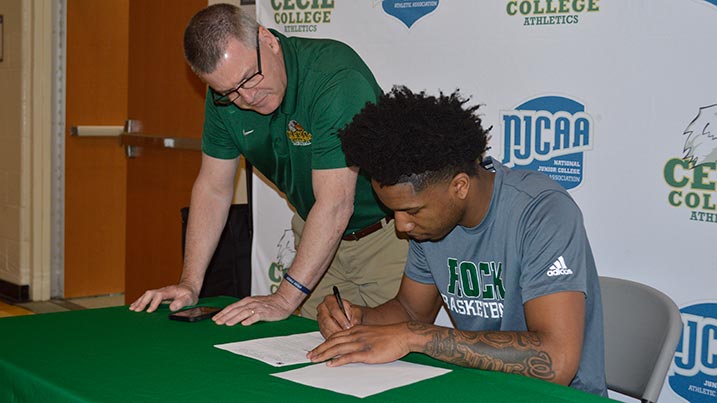 Cecil College head men's basketball coach Ed Durham looks on as the Seahawks' star player, Khalid Gates, signs his Letter of Intent to transfer to play for Slippery Rock University.
---
NORTH EAST, Md. – Following two exceptional seasons with the Cecil College men's basketball program, Khalid Gates will continue his collegiate athletic career at Slippery Rock University. On Thursday, gates signed his letter of intent to play for The Rock next season, surrounded by family, friends, and coaching staff.
"I am really looking forward to being a member of the Slippery Rock University men's basketball team and pursuing my bachelor's degree in Sports Management. The coaching staff at Slippery Rock made me feel comfortable and the campus had the feeling of going to Cecil College again," said Gates, who was offered a scholarship from Slippery Rock University. "Slippery Rock had the degree program I wanted, and receiving this scholarship will allow me to concentrate on my academics and not be stressed-out about accumulating student loan debt."
Gates was the catalyst behind the Cecil College men's basketball team, which qualified for the NJCAA National Tournament for the second time in three years. The six-foot-five forward from Washington Academy in the nation's capital was the leading scorer for the Seahawks with 15.6 points per game average.
The Slippery Rock University men's basketball team finished the 2021-2022 season with a 17-12 overall record and 13-9 in the Pennsylvania State Athletic Conference (PSAC). Gates fills the role of The Rock's top two scorers who are graduating.
"Khalid Gates follows in a long line of Seahawks who have moved on to continue their academic and athletic careers. Slippery Rock is getting an outstanding basketball player, but an even better person. Khalid is a high-level player. We were blessed to have him the extra year because of Covid. I am certain he will do outstanding things for Coach (Ian) Grady and the Slippery Rock team," said Cecil College Head Coach Ed Durham.
Gates, a general studies major, was named All-Region 20 First Team as he averaged 7.8 rebounds per game along with his scoring average. He was then honored as a First Team All-American for NJCAA Division II men's basketball and was selected to compete at the 2022 NJCAA Men's Basketball Coaches All-Star Game in Las Vegas. Twenty-four athletes from across the three divisions of the NJCAA were selected. Cecil College is a Division II program.
The Seahawks finished the 2021-2022 season with a 27-4 record after winning the Region 20 championship before going to the national tournament in Danville, Ill. Gates was a member of both teams that qualified for the national tournament, with the Seahawks placing third in the nation during the 2018-2019 season. The 2020-2021 season was canceled due to the pandemic.
Gates scored double-digits in 21 games and recorded double-doubles in points and rebounds in nine games this season. He tallied a career-high 31 points against No. 3 Sullivan County Community College in the quarterfinal round of the national tournament and a career-high 19 rebounds against Garrett College on December 15.
In January, he was also named Maryland JUCO and NJCAA Region 20 Division II Player of the Month for his outstanding performance. Gates finished his career as a Seahawk with 671 career points, 452 of them coming from the 2021-2022 season.