Gates named First Team All-American
Published on April 5, 2022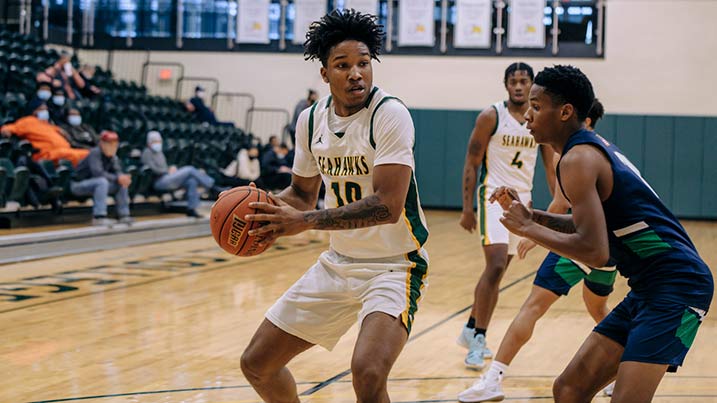 ---
NORTH EAST, Md. – On the heels of an exceptional season that saw the Cecil College men's basketball team qualify for the NJCAA National Tournament for the second time in three years, the accolades for Khalid Gates continue to highlight his career with the Seahawks. Gates was recognized once again this week when he was named First Team All-American for NJCAA Division II men's basketball.
"Being selected as NJCAA First Team All-American is a blessing. It means a lot to me to be recognized as a top player. This was one of the goals I had set on my agenda at the beginning of the season, and I achieved it," said Gates.
Gates is a six-foot-five sophomore forward from Washington Academy in the nation's capital. He was the leading scorer for the Seahawks with 15.6 points per game average.
"Khalid is deserving of being named First Team All-American. He was the best player in our Region as recognized by our member coaches. His performance at the National Tournament solidified his status as one of the best players in NJCAA Division II. I am so happy for him. He has contributed so much to our program, and I look forward to seeing where his next chapter takes him," said Cecil College head coach Ed Durham.
The Seahawks finished the 2021-2022 season with a 27-4 record after winning the Region 20 championship before going on to the national tournament in Danville, Ill. Gates was a member of both teams that qualified for the national tournament, with the Seahawks placing third in the nation during the 2018-2019 season. The 2020-2021 season was canceled due to the pandemic.
Gates, a general studies major, was also named All-Region 20 First Team as he averaged 7.8 rebounds per game along with his scoring average.
Gates scored double-digits in 21 games and recorded double-doubles in points and rebounds in nine games this season. He tallied a career-high 31 points against No. 3 Sullivan County Community College in the quarterfinal round of the national tournament and a career-high 19 rebounds against Garrett College on December 15.
He was also named Maryland JUCO and NJCAA Region 20 Division II Player of the Month in January for his outstanding performance. Gates finished his career as a Seahawk with 671 career points, 452 of them coming from the 2021-2022 season.