Hamm to serve second term on Cecil College Board
Published on September 8, 2020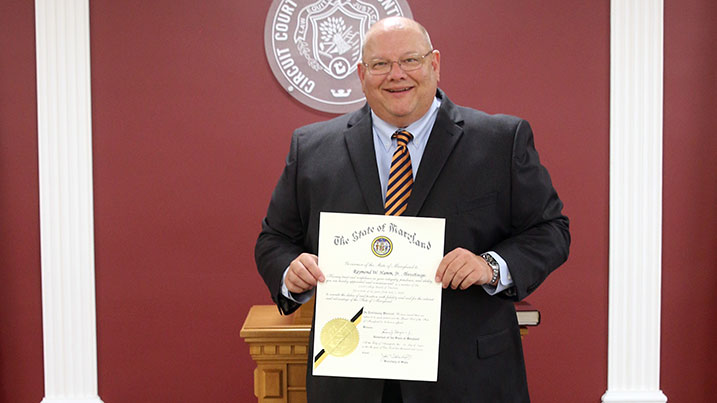 ---
NORTH EAST, Md. – The success of an institution, whether financial or educational, depends on strong leadership. Cecil College has remained a beacon of opportunity and hope for Cecil County residents in large part due to the efforts of individuals like Raymond W. "Chick" Hamm, Jr.
"I am most proud of the students and having the opportunity to serve them. My trustee experience has provided a front-row view of many students from all walks of life who are working very hard to improve their education and preparedness for the workforce.  They are amazing," said Hamm.
Hamm was sworn into his second six-year term as a Cecil College Board of Trustee member on August 25 by Cecil County Clerk of the Court Charlene M. Notarcola at the courthouse. Gov. Larry Hogan initially nominated Hamm for his first term in 2014.
Hamm brings a world of financial experience to the board, especially critical during the recent pandemic's challenging times. With 44 years in the banking industry in Maryland, Hamm is currently an Executive Vice President and Market Leader at PNC Bank. He has used his experience and knowledge to ensure Cecil College remains on solid financial ground.
"I see Cecil College as the key provider of workforce readiness training for our region and, as the county continues to experience growth in jobs and career opportunities, Cecil's open-access and affordability will help our friends, families, and neighbors achieve their goals," said Hamm. "It is also a hub of activity for athletics and the arts, providing an important social fabric for us to all enjoy together.  In my lifetime, these opportunities to be united have never been more important."
He began his banking career with Mercantile Bank in 1976, rising through the ranks to becoming a Director, CEO, and President of Mercantile County Bank. When PNC Bank acquired Mercantile in 2006, his responsibilities grew to include commercial and institutional banking across Maryland, southern Delaware, and the Virginia Eastern Shore markets. Along with his finance experience, he has been able to develop a network of advisors to foresee trends within the market. He has brought this knowledge to Board retreats to provide insight.
"The board has worked very collaboratively with the college's staff to successfully navigate a number of planning, budget, construction, and accreditation matters.  Most recently, I've been especially impressed with the school's handling of the many challenges ushered in via COVID-19, all of which required a quick and nimble ability to adjust course in a very dynamic environment," said Hamm.
Hamm completed his undergraduate and graduate studies at Loyola College of Maryland, receiving a Master's Degree in Business Administration in 1983, and currently is a board member of the Maryland Bankers Association.
As an active community volunteer, he has served on numerous boards supporting the community's economic, health care, and educational needs.  He also holds board positions for the Susquehanna Workforce Network; the Bainbridge Development Corporation and is Chairman of the Board for Christiana Care Union Hospital located in Elkton, Maryland, which includes serving on the board of the Christiana Care Health System.
"The college's stated vision is to "transform lives and strengthen our community."  I'm in heartfelt agreement with those objectives and try to keep them front and center in fulfillment of my duties as a Trustee," said Hamm, who resides in the Elk Neck region of Cecil County with his wife, Anne.