Handley recipient of APGFCU Scholarship
Published on May 8, 2020 under Academics, Alumni, Faculty & Staff, Foundation, General News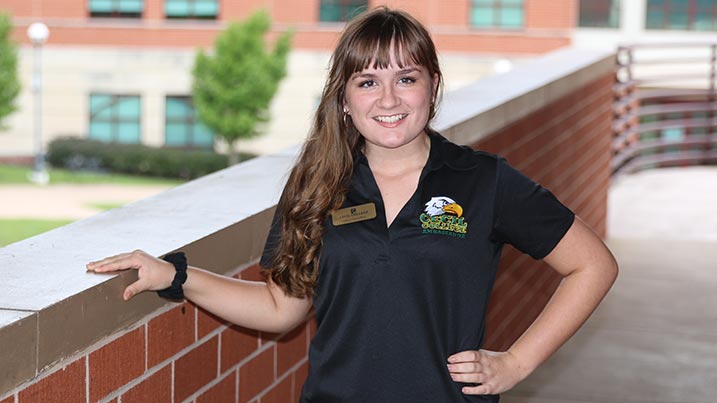 Gina Handley
---
NORTH EAST, Md. – The college experience is meant to allow individuals to explore their horizons, take chances to discover who they are, and grow both emotionally and mentally. Gina Handley came to Cecil College as a quiet, on the shy-side person looking to learn but, more importantly, grow as an individual.
In her second year at Cecil College, on the pathway to becoming a nurse, her accomplishments were assisted by scholarships from the Cecil College Foundation and other organizations outside of the institution. This month, Aberdeen Proving Ground Federal Credit Union (APGFCU) announced Handley was among 34 recipients of a scholarship from the credit union. Each of these scholarships are worth $2,000.
"This scholarship will allow me to be more diligent with my studies since I can focus on my education. I won't have to worry about picking up extra shifts to afford my tuition," said Handley.
Handley attended North East High School and earned a Certified Nursing Assistant certification from the Cecil County School of Technology. At Cecil College, she worked as a Cecil Ambassador for the Admissions Office and was a member of the Student Leadership Council.
"I am in my first year of the nursing program, which is an amazing program. I am planning to continue my education for a bachelor's in nursing with interest in the geriatric population," said Handley.
"Starting in 2019, we expanded our annual scholarship program to not only award graduating high school seniors, but also returning students like Gina, those attending trade school, and adults continuing their education. We believe a key to economic empowerment is knowledge, and we want to help make education more attainable to the people in our community," said Brian Wilcox, Chief Marketing Officer at APGFCU.
As part of APGFCU's goal to help all members achieve, prosper and grow, the credit union expanded its scholarship program for 2020 to include returning students and adults continuing their education.
Applicants were asked to respond to the question, "How would you go about reaching and educating young adults on financial wellness?" The following is Handley's essay:
"Everyone remembers the Aesop Fable "The Tortoise and the Hare." In the story, the hare challenges the tortoise to a race and loses. The moral of the fable is that one can succeed by doing things slowly and steadily instead of by acting quickly or recklessly.
The same could be said about financial wellness. The lessons that we learned in the beloved fable can easily be applied to educate today's generation of young adults. The antagonist, the hare, represents what I call the Amazon Prime generation. With the click of a mouse or a tap of a phone, tablet, or other devices, any item can be ordered and delivered within 48 hours. Want to see a full season of your favorite television program? Just download it and binge-watch. Why wait twelve weeks for your program when you can cram it in an eight-hour span.
The hare represents instant gratification. I would assign the young adults to monitor their social activities for a two week period and identify what choices for their instant gratification most affected their behavior.
Now the protagonist, the tortoise, represents a more cautious way to invest in satisfaction in the long run. Challenge the young adults to see if they can determine the benefits of a long term savings plan. Using the concept of simple compound interest, you provide the students with two choices, would they rather have $10 provided to them now, or starting with a single penny, double the amount every day for 12 days? The difference between the two amounts is over 100 percent, as the Day 12 amount with compound interest is $20.48 (Day 11 is $10.24), as opposed to the original offer of $10.
Hopefully, these two examples will show the young adults the value of avoiding instantaneous gratification in lieu of saving for the long run. As a reward to the start of their financial wellness, I recommend that APGFCU could match the initial deposit for opening up their new account – up to $25. Why this reward can easily be accomplished in under 13 days! (The math proves it!). Thus, in the end, the tortoise beats the hare again to the finish line of financial wellness.