Horgan sworn in for third term as Cecil College Trustee
Published on November 12, 2019 under Alumni, Faculty & Staff, Foundation, General News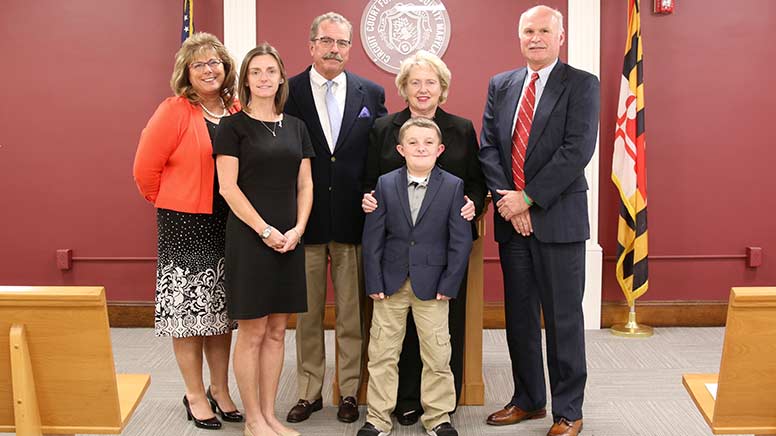 Seen here are Cecil County Clerk of the Court Charlene M. Notarcola, Kimberly Elder (daughter), Tom Horgan (husband), Cecil College Board of Trustee Donna Horgan, Jack Elder (grandson), and Cecil College Board of Trustee Mark Mortenson.
---
NORTH EAST, Md. – Like the Turkey Point Lighthouse, Cecil College is a beacon of opportunity and hope for Cecil County residents that has withstood the test of time. This is largely due to the efforts of individuals like Donna L. Horgan. For more than three decades, Horgan has been a powerful advocate for Cecil College and other Maryland community colleges at the Annapolis State House.
"It is a wonderful opportunity for Cecil County residents to be able to get a college education without having to leave home. I know that going away to college and living on your own is a wonderful experience, but not everyone can afford it," said Horgan, who has worked for more than 30 years for the President of the Senate and four years as the Reading Clerk on the floor of the Maryland State Senate. "Cecil College has articulation agreements with so many four-year colleges and universities, the opportunities for Cecil County residents are endless now."
Last month, Horgan was sworn into her third six-year term as a member of Cecil College's Board of Trustees. She was initially nominated by Gov. Martin O'Malley for her first term in 2007 and, most recently, re-nominated by Gov. Larry Hogan.
Cecil College has been "near and dear" to Horgan's heart ever since attending classes back in the 1970s. Since then, both of her daughters – Kimberly Elder and Blair Burkhardt – have graduated from Cecil. Her eldest daughter went on to graduate from Wilmington University and now teaches in the Cecil County Public School District.
Horgan was sworn in by Cecil County Clerk of the Court Charlene M. Notarcola during a ceremony at the County Courthouse on October 10. Also present was Cecil College Board of Trustee Chair Mark Mortenson and her grandson, Jack.
"I have been fortunate to watch the growth at Cecil College during my time on the Board. Working with the administration, the college has kept pace with the times," said Horgan. "Being located just off the Interstate 95 corridor between Philadelphia and Baltimore, the College has implemented new programs that have created an immeasurable amount of opportunities for the county's residents."
During her time at Cecil College, the institution has added the Engineering and Math Building, the first Gold Certified LEED building in Cecil County. In 2019, she was present for the ribbon cutting of the Charlie O'Brien Practice Facility – the first privately funded structure to be built on a Maryland community college campus. She is looking forward to providing insight regarding the new access road to the school slated for FY 2021.
On the state level, Horgan was President of the Maryland Association of Community Colleges from 2014-2016, where she advocated for all of Maryland's 16 institutions. She then served on the Board of the Association of Community College Trustees, an educational organization representing more than 1,200 community, technical, and junior colleges in the United States.
Horgan's advocacy work extends to Annapolis, where she has developed positive working relationships with elected officials. She keeps them informed of the significant benefits community colleges, notably Cecil College, provide to local communities and the state's economy. In her position as Reading Clerk of the Senate, she keeps her ear to the ground to learn of any legislation that will impact community colleges.
"Cecil County has a lot to offer now and moving forward. And Cecil College plays a major role in preparing our residents for what is to come," said Horgan, a lifetime resident of Cecil County.