Hornberger to lead Writing Center
Published on September 3, 2019 under Academics, Faculty & Staff, General News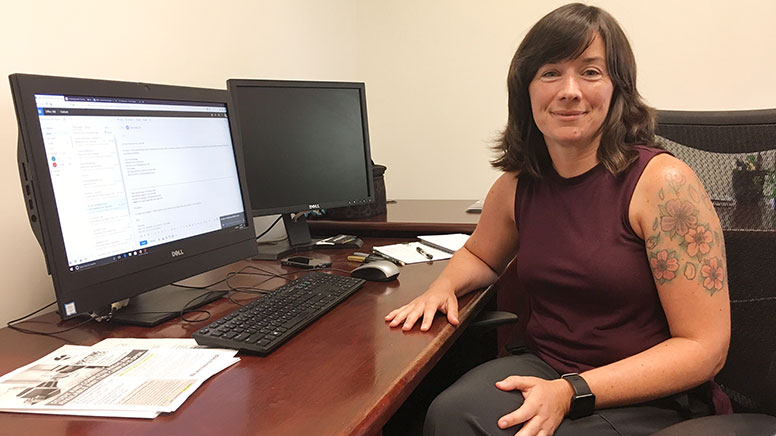 ---
NORTH EAST, Md. – With the classes hurdling into full scholastic mode on the precipice of the changing seasons, Cecil College's North East Campus was alive with activities as students crisscrossed the quad on their way to class. Standing in the middle of all this activity, absorbing the energy, was Lauren Hornberger, the new Writing Center Coordinator at Cecil College.
"I came to Cecil College looking to work in a smaller educational setting," said Hornberger, who came from the University of Delaware. "It allows for connecting with faculty and developing a community where we can work together to help the students succeed."
The Writing Center offers free tutoring in the areas of reading and writing to all Cecil College students. Hornberger is taking steps to work collaboratively with faculty and familiarize them with the services she and her tutors provide. Along with working with the faculty, she is preparing a campaign toward students to promote a friendly and helpful environment in the Writing Center.
"I will be working with the other offices on campus to expand access to the Writing Center's online tools in Blackboard and on My Cecil. Our online presence is vital, as today's students communicate through mobile devices. We want to make it as simple as possible for them to schedule an appointment," said Hornberger. "It is intimidating for a lot of students to walk into an unfamiliar environment and ask for help."
The Writing Center is located on the North East Campus in the Arts and Sciences Building on the third floor and is accessible for group study, quiet study, and computer use while the campus is open. In addition to receiving help with their reading and writing, students can receive assistance with research and oral communication skills.
Hornberger holds a Bachelor of Arts in English from the University of Delaware (UD) and a Master of Arts in English from Northeastern University. Before Cecil, she spent 12 years as an adjunct at UD teaching composition and graduate writing for non-native speakers. Since 2012, she was also a writing specialist at UD providing one-on-one personalized writing support to students in the University's two-year degree program.
She is also planning to create a partnership with the Career Services Office to organize workshops for job-seeking students to help them write resumes and cover letters.
"I am open to as many ideas as people want to share with me to better benefit students. The services are here to serve the Cecil College community, but what good is a service if no one is walking in? To make the Writing Center work better for the community, I would like to hear from the community," said Hornberger.