It All Started Here … Brianna Kirchner
Published on May 16, 2018 under 50th Anniversary, Academics, Alumni, Faculty & Staff, Foundation, General News, Student Life
---
NORTH EAST, Md.  – As an ecologist in a botanical garden, the faculty at Cecil College helped nurture a shy and reserved local girl into a determined and driven young lady who is achieving great heights in the academic realms.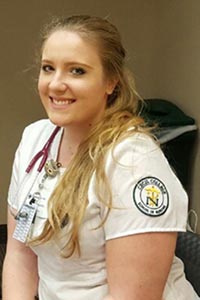 Brianna Kirchner will be graduating from Cecil College with an Associate of Science degree in nursing on May 20. Six months later, she will receive her Bachelor of Science degree in nursing from Towson University under the Associate-to-Bachelor's (ATB) Nursing Dual Enrollment program. The ATB is an accelerated year-round plan allowing students to enroll in both an associate degree nursing program at a participating community college and the baccalaureate degree nursing program at Towson University.
"In the beginning, I knew what I wanted to do, but I was unsure if I could handle the amount of work. A lot of it was seeing my sister going through the nursing program at Cecil College. She worked her butt off and was so excited when she graduated," said Kirchner.
Her journey began when she graduated from Tri-State Christian Academy in 2014 and was thinking about following in her father's footsteps. Her father, Mike Kirchner, is a biomedical engineer for Terumo Medical Corporation in Elkton.
As a self-described homebody, she chose Cecil College so she could remain close to home and the inspiration provided by her elder sister formed the pathway she would follow. She applied and was accepted into the nursing program in 2016, an omen of good things to come. Heading into fall of 2017, she was accepted into the National Nursing Honor Society after qualifying for the President's List for academic achievements the previous two semesters.
"The instructors were extremely helpful. Just like Dr. (Nancy) Vinton, she went out of her way to write me a wonderful letter of recommendation for one of my scholarships. She knew I wanted to go into the nursing program and was very supportive. I feel blessed having all of these instructors who are so for you," said Kirchner, who took Anatomy I and Anatomy II with Dr. Vinton.
Kirchner is one of five Cecil College nursing students to complete the ATB dual enrollment program this spring at Towson. The next phase for these students is to pass the National Council Licensure Examination (NCLEX), take one course this summer and then two more in the fall. The journey concludes with the completion of her practicum.
"Beyond the affordability of attending Cecil College, Cecil has the highest passing rate in the state for the third year. That is above John Hopkins where I would have been spending so much more money. Coming to Cecil College was the practical and wise choice," said Kirchner.
Aiding Kirchner in this next phase was the announcement last week that she is the recipient of Phi Theta Kappa's Hurst Review NCLEX Scholarship to cover the cost of NCLEX exam fees and study materials. Phi Theta Kappa is the premier national honor society recognizing the academic achievement of community college students. She is one of only 22 recipients of this annual scholarship.
"I am honored to be recognized for all the hard work," said Kirchner, who plans to pursue a master's degree in the future.