It All Started Here …

Campaign of inspiration

Published on March 27, 2018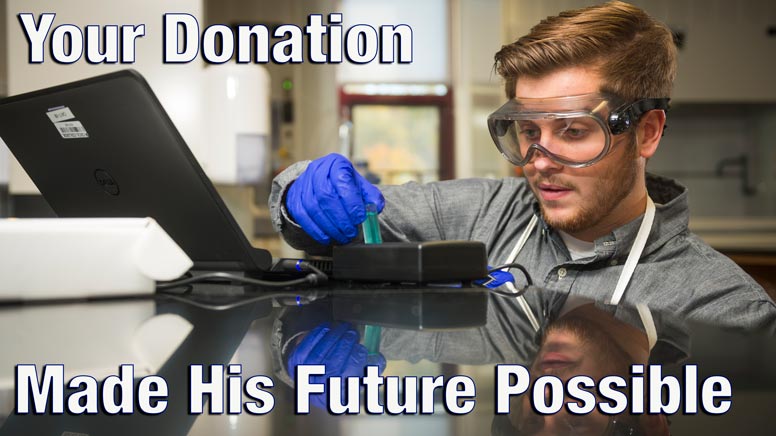 ---
As Cecil College celebrates its 50th anniversary, the Cecil College Foundation is launching a campaign of inspiration with a goal of raising $1.5 million in support of student success. The campaign is divided into three areas of support: Academic Program Support, Financial Academic Support, and Extra-Curricular Support.
Money donated to these categories will assist students by purchasing teaching tools for the classroom, providing scholarships to help their financial stability, and enhancing the student-life experience in a college environment.
"One of my goals is to let people know these needs exist at Cecil College. There are all kinds of opportunities whether it is adult education, continued learning, nursing, STEM, teacher education, or workforce development," said Mark Mortenson, Giving Committee Chair and member of the Cecil College Board of Trustees.
This article is the first of three highlighting these three areas of need at Cecil College. These articles will go into detail of how individual and group donations benefit the lives of Cecil County residents.
In Academic Program Support, funding will target equipment needs for laboratory and classroom experiments. One such need is in the microbiology labs where the college is looking to purchase two microplate readers which cost more than $1,000 each. For the hands-on training in the heating and air conditioning program, the college is looking to buy new HVAC units.
"Small amounts of money can make gigantic differences in people's lives and, the more specific we can get in letting people know what students need help, the more likely someone will say, 'that interests me, and I want to help,'" said Mortenson.
An example of this occurred last month when a benefactor of the college learned that nursing students were having trouble affording blood pressure cuffs. They donated to ensure next year's class of nursing students will each have their own for training.
"You would be amazed at what $50 means to a student. It pays for that book, helps buy the piece of machinery they are training on, or even allows them to put gas in their car so that they can make it to a class that week," said Cecil College President, Mary Way Bolt, Ed.D. "We have students deciding between purchasing the tools they need for class or buying food for that week."
The Academic Program Support fund would help offset the cost of uniforms for nursing students, purchase sewing machines for the art and theater programs, cover the cost of name tags for the teacher education students, and make lab coats affordable to the STEM students.
"When you get close to students, you understand how important little things are. There was a 34-campus survey of students, including both four-year and two-year institutions. Nearly half of the students surveyed experienced food anxiety in the last 30 days. They had to make decisions between books and food. That impacts everyone when they hear that," said Mortenson.
That study also found students suffering from housing and food insecurities were a half grade point to a full grade point behind those students not worried about when they would have their next meal.
Since its founding in 1968, the Cecil College has helped 83,668 people in its Continuing Education Division and serviced 55,155 students pursuing a degree or certificate. Behind each number is a student seeking to better themselves.
"Your generosity can be seen throughout these numbers. But I want you to go beyond the numbers, and I want you to see the faces of our students and the faces of the families of those who we impact in the community day in and day out. We cannot do that without you," said Dr. Bolt.