It All Started Here …

Charlie O'Brien

Published on August 10, 2018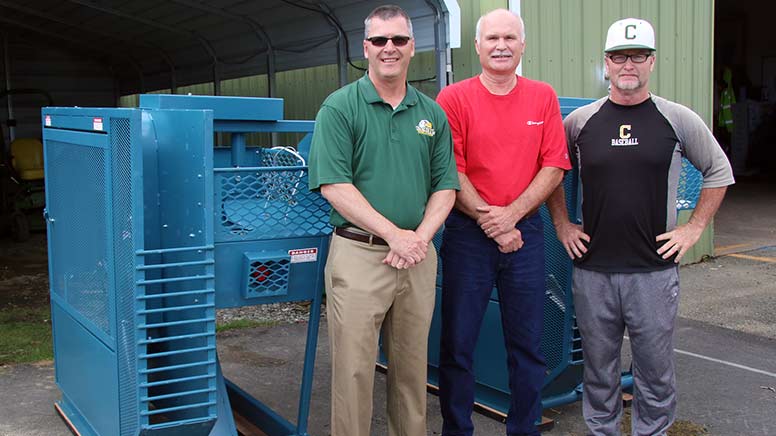 Charlie O'Brien (far right) stands with Cecil College Athletic Director Ed Durham (left) and Cecil College Board of Trustee Mark Mortenson (center) in front of two recently donated pitching machines for the College's baseball and softball programs.
---
NORTH EAST, Md. – Making a difference in another person's life has been at the foundation of Cecil College for 50 years. Throughout the tri-state region, there are thousands of examples of how the dedication and commitment of Cecil College's faculty and staff have influenced lives for the better.
"We are community and student driven. The faculty and staff are here to make them better, and we do this by being accessible and doing anything we can to help them be successful," said Charlie O'Brien, academic advisor and head baseball coach at Cecil College. "Whether it is a kid coming in to get a degree or a student taking the welding program on the community education side, giving our students a chance to get a well-paying job is what it is all about."
O'Brien should know as he was one of those students who was adrift upon graduating high school back in the 1980s. He had all the intentions of going to work for his father as a mechanic, but being a standout baseball player, O'Brien was approached to try out for the Cecil Community College team. As fate would have it, it was during his freshman year he met the man who would become his mentor and guidance counselor.
"Tom Wilhide was the one who got me to start thinking about education instead of just baseball. He taught me that even if I made it to baseball's big leagues, that economics class I took would still play a role in my life," said O'Brien.
George Thomas Wilhide was a professor of psychology and physical education, who worked with the College's student-athletes to ensure they understood the power of education. His message to these students was not to squander the opportunity but embrace it. Many of the student-athletes with whom he crossed paths credit him with helping them to mature from young men and women into adults. Wilhide was recognized for his contributions when he was named Professor Emeriti upon his retirement from Cecil College.
"A lot of people would think it is the buildings that make the college. I think it is the faculty and staff, the majority of which are here for the right reason. Trying to take a kid from point A to point B," said O'Brien. "Our student population is so diverse that we are fortunate to have faculty who can deal with high achieving students as well as those who struggle academically. The entire staff goes out of its way to serve the needs of our students. That is what our jobs are all about. Serving the community and our kids."
O'Brien, like many at Cecil College, is a strong advocate for community college education and providing that helping hand to a brighter future. He played baseball at Cecil College from 1983-85 before going on to complete his bachelor's degree from West Chester University. Following a year of coaching at West Chester, O'Brien took the head coaching position at Keystone College in northern Pennsylvania. He returned to Cecil County in 1995 to take a job at the College.
"When I first came to Cecil, it was for all the wrong reasons. I came to play baseball and possibly make it to the big leagues. When I realized my dream of playing in the big leagues wasn't going to happen, the advice of Tom Wilhide and others like him helped me put things into focus. The truth is, I was at the right place at the right time, and I would not have been able to do it without coming here and meeting people like Tom."
For 23 years, O'Brien has been working to pay it forward. As a baseball coach, he is very proud to have led his team to the 2011 College World Series. But as a mentor to young men, he is most proud of the impact and guidance he has been able to provide. "Every year the changeover is incredible. We have kids who start here and don't think they can pass a college class, and the next thing they know they are finishing their four-year degree. That is what hits me right here," said O'Brien, pointing to his heart.