It All Started Here …

Christie McDevitt

Published on May 22, 2018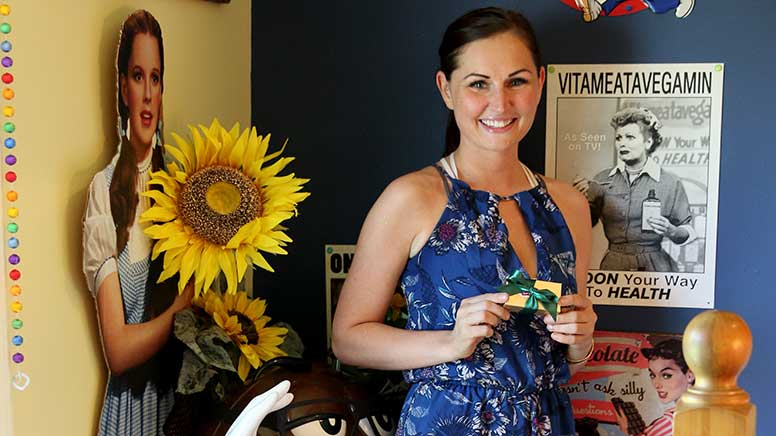 ---
NORTH EAST, Md. – It takes more than a sweet tooth to be a small business entrepreneur and to grow that business into a thriving entity in Cecil County. It takes drive, determination, a positive outlook on life, and the grit to overcome adversity.
"You go to business school, and they don't teach you the real nitty gritty things that are going to throw you curve balls. Such as getting all the permits, making sure all your licensing is up to date, knowing all the tax avenues to explore. There is so much, and I missed quite a few steps which came back to bite me," said Christie McDevitt, owner of North East Chocolates.
It wasn't McDevitt's dream to become a chocolatier when she graduated from Bohemia Manor High School in 2005. She attended Cecil College with hopes of becoming an architect. As the only woman in the engineering program at the time, she went on to earn her Associate of Science in Engineering in the field of Computer Aided Drafting (CAD) in 2008.
"Cecil College helped me step outside of my comfort zone, and it was a good transition for someone like me. If I had gone to a big college straight out of the gate, I think I would have gotten lost in the mix. Even though I was a little bit scared, it brought the opportunities to me," said McDevitt, who realized engineering was a career path she desired.
She went on to Goldey-Beacom College in Wilmington to earn a Bachelor of Science in Business Administration. With a degree in hand, she took a job at Union Hospital in Elkton as a liaison for patients and families, but she wanted more of a challenge. That opportunity came in 2012 when the owner of the candy shop in North East retired and sold the business to McDevitt.
"It wasn't a decision as much as an opportunity," said McDevitt, who began by downsizing her shop's offerings to specialize. When the former Gingerbread Store on Main Street in North East came available, she jumped at the opportunity and the sales blossomed.
"Putting everything in one concentrated area helped sales. When people come in the door, we are right there. It is a very welcoming atmosphere with everything surrounding them. So, bit by bit, we continued to put more things in there," said McDevitt, who was named Cecil County's Tourism Person of the Year.
This decision also enabled McDevitt to open a second location at Belle Connell's Emporium in Chesapeake City a short time later.
"I don't think anybody can run a business alone. It is all about who you know, resources, connections, and relationships. I have had a tremendous amount of help, and most of us small business owners can say the same thing," said McDevitt. This help included her parents, Kevin and Linda McDevitt. "What I find most rewarding is when little kids come into the store, and their faces light up, and they get so excited. I want to be that one place they remember growing up. They look forward to it and me creating the memory for them."
McDevitt is a self-taught chocolatier in the art of making different delights. Although it wasn't an easy education, much of what she has learned came from trial and error with the help of friends, family, and employees. The best seller to date remains salted caramels.
Christmas is her busiest time of the year followed by Valentine's Day, Easter, and Mother's Day. Except for January, she says business is steady throughout the year as she has added items like vintage sodas and candies to supplement the chocolate sales. North East Chocolates also helps promote other businesses in Cecil County by pairing with local wineries like Dove Valley and Turkey Point Vineyards. There are gift baskets that include chocolates, a bottle of wine and wine glasses from Stevie Lynn's Boutique.
"There is a lot of talent that comes out of Cecil County, and there is something to be said for investing in the community that helped bring you up. We all want to leave it better than the way we found it, so what better way than by keeping the talent local," said McDevitt.