It All Started Here …

Kristi Eisenberg

Published on June 13, 2018 under 50th Anniversary, Alumni, Fine Arts, Foundation, General News, Visual Communications
---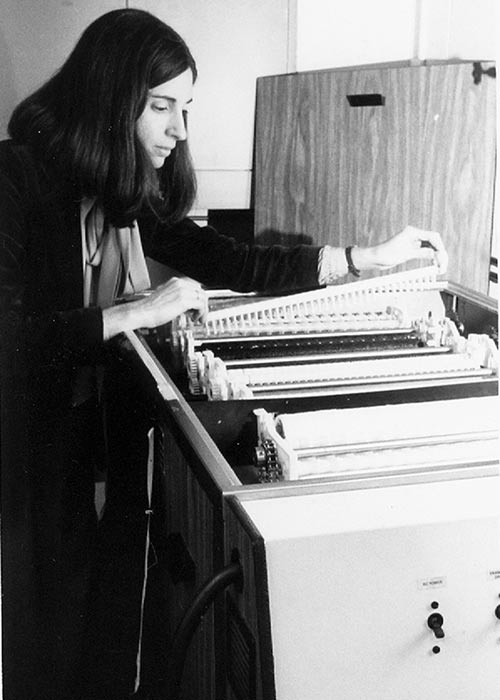 NORTH EAST, Md. – In 1979, Cecil Community College as it was known then fell into the spotlight of the art world in Philadelphia when an aspiring photography instructor had the opportunity to display her work along with presenting a lecture. As Cecil College celebrates 50 years of changing lives in the region, it is important to remember the people who helped mold the college into what it is today.
From the annals of the Cecil Whig, it was reported on Oct. 10, 1979, that Kristi Eisenberg was invited to have five of her color photographs on display in the Museum of the Philadelphia Civic Center. The art exhibit featured photography, paintings, and modern forms of sculpture. It opened on Sept. 20 and ran through Oct. 21.
Eisenberg, a professor of photography at Cecil College, presented a lecture and slideshow on "Women in Photography" at the museum on Oct. 21. The five color photographs she had on display were abstracts in which she used elements of the environment to create what may well be termed "symbols" of our times.
By photographing a detail, such as the designed hood of a sports car, she was able to piece reproductions of the photograph into a mosaic and allow the viewer to make it their interpretation of what they are seeing.
Eisenberg was considered a pioneer in this form of photographic art, "much as is the poet who creates images and impressions to have meaning to the reader according to the intake of what they have read," stated the article. Her interest in photography began about 12 years prior and two years before being hired as an instructor at Cecil College in 1970.
That interest inspired her to obtain a Master of Fine Arts from the University of Delaware. At the time she achieved this degree, it was the most advanced degree obtainable in the field of photography. During the mid and late 1970s, Eisenberg was engrossed in abstract photography, according to the Whig article.
Additionally, Eisenberg also concentrates on portraits, both in color and in black and white.
As coordinator of the photography program at Cecil College, she headed a team of six instructors offering a variety of courses in the use of the camera.
David Burch was the instructor of industrial photography; Bob Herbert taught photojournalism and color photography; Bill Lindsey and Russ Rustine taught commercial photography; Mike Duvall taught wedding photography. Duvall was a graduate of Cecil College's photography program and taught in the Continuing Education Program.
"Professor Eisenberg's dedication to and enthusiasm for the photography program at CCC has enabled numerous 'amateur shutterbugs' to attain professional status, and has enhanced the joy of camera-clicking for many senior citizens, high school students, and elementary pupils, throughout the county," the article concluded.