It All Started Here …

Leah Corrado: Cecil College graphic design graduate helps college's STEM campaign hit the road

Published on November 5, 2018 under 50th Anniversary, Alumni, Fine Arts, Foundation, General News, Visual Communications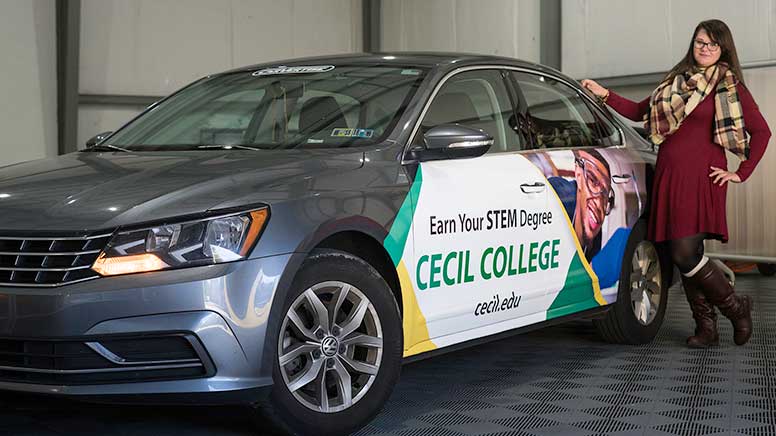 ---
NORTH EAST, Md. – In the spirit of Willie Nelson, Cecil College's fall marketing campaign is on the road again. But this time, with the help of one of the college's alumna, Cecil College is able to promote its STEM programs via ten cars wrapped like traveling billboards.
"When I found out I was going to help design a banner and wrap a car for Cecil College, I was like 'wow'! This is cool," said Leah Corrado, who is a 2015 graduate from Cecil College with a dual degree in Graphic Design and Multimedia, and Web Design and Multimedia.
Following graduation, Corrado landed a position with Carvertise, the largest car wrap advertising company in the country, located in Wilmington, Delaware. Carvertise pays drivers to place removable advertisements of major brands on their personal vehicles. As the car is driven during the owner's normal routine, the advertiser's brand is seen by other drivers.
"I think Leah's honestly one of the best car wrap designers in the world. She can work in multiple formats, is a trained professional photographer, and has a knack for videography as well," said Carvertise owner Greg Star. "She designs marketing collateral, and was an integral part of developing Carvertise's brand identity."
This campaign is the second Cecil College has deployed through Carvertise in the last ten months. The first campaign was to promote the healthcare programs at the college. The STEM campaign this fall is aimed at the engineering, science, and cybersecurity programs. Cecil College has an articulation agreement with the University of Delaware in Civil Engineering, and Frostburg State University has partnered with Cecil College to offer a collaborative 2+2 Bachelor of Science in Engineering, Materials Engineering concentration, on Cecil College's North East Campus.​​​​
"When we started working with Carvertise last year, we had no idea that Cecil College alumni were part of their team.  It wasn't until we were in the final stages of creative development during our second campaign with them that Leah mentioned she was a graduate of our Visual Communications program," said Amy Henderson, director of marketing at Cecil College.
Corrado has become an integral part of Carvertise's success since joining the firm. As a freelance photographer, she brings a new level of talent to the Carvertise team. According to Star, Corrado is the only person in the entire company who has touch points on every aspect of what the firm does. From sales to design, wrapping process to photography, there appear to be few limits to her abilities.
While it wasn't the intention when choosing Carvertise as a client, Cecil College is always happy to see the success of the college's graduates. Corrado's work for the college has been exceptional, and the College is excited about its latest campaign to raise visibility regarding its STEM programs.
"My instructors at Cecil College helped build my core technical skills, and helped me gain the knowledge and confidence to succeed in my career," said Corrado.
"Maybe the most impressive part about Leah is her willingness to improve. She is always learning and pushing herself. She wants to be better, and her attitude makes the entire team want to be better," said Star. "She takes pride in her work, has great habits, and takes care of what needs to get done. She is very even-tempered, and can handle anything we throw her way."
Cecil College's STEM campaign can be seen on the highways and byways of the tri-state region through the end of January. Keep an eye out for Corrado's works that are designed to inspire others.