It All Started Here …

Mixon family embraces community college education, three sons attend West Point Military Academy

Published on October 17, 2018 under 50th Anniversary, Academics, Alumni, General News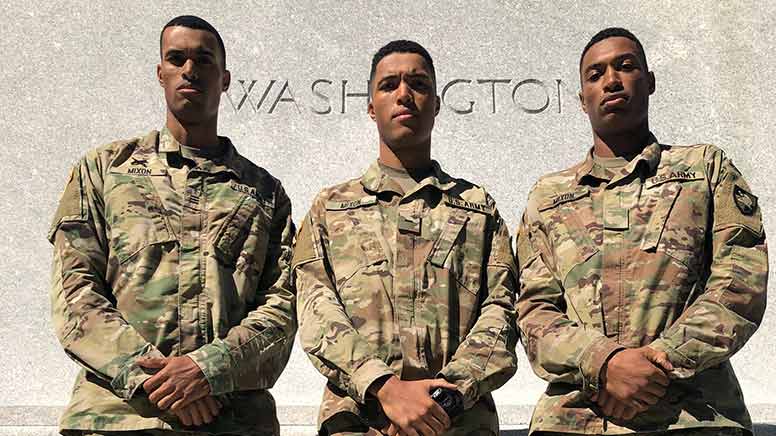 The Mixon brothers, two who attended Cecil College, stand in front of a monument of George Washington. The three brothers now attend West Point Military Academy. From left are: Hunter L. Mixon, Harrison M. Mixon, and Brandon M. Mixon.
---
ELKTON, Md. – For half a century, Cecil College has been providing comprehensive access to educational opportunities. For the Mixon family, the College was the stepping stone for two of their sons to attend the United States Military Academy at West Point, New York.
It is an honor for most families to have one child attend West Point and even a greater sense of pride to have two. But, the Mixon family of Elkton has three sons enrolled this year at the prestigious military academy.
The Mixon children are homeschooled and follow a program of study that calls for each to take primarily college-level courses during their twelfth-grade studies. Harrison Mixon attended Cecil College during the 2016-17 academic year, and Brandon Mixon attended the College during the 2017-18 academic year. Harrison and Brandon both earned congressional nominations and appointments to West Point, and following graduation from high school, joined their elder brother, Hunter Mixon, who is in his fourth year at the Academy.
"My husband and I are very proud of all of our children. Harrison wanted to go into the military and be an officer like his dad. Then Brandon saw both Harrison and Hunter going to West Point, and he said 'I want that, too,'" said Tracey Mixon, who has homeschooled all eight of her children from grades K-12.
The Mixon's family roots run deep in military service; the children's father is retired U.S. Army Colonel Laurence Mixon, with 30 years of service in Army intelligence and a graduate of West Point Military Academy. Mixon's last post was Fort Belvoir, Virginia, and he now works as an Army Senior Civilian at Aberdeen Proving Ground, MD.
The Mixon family has eight children who are all homeschooled, with the eldest four having already attended community colleges in Maryland, Virginia, and Washington. Their eldest daughter, Lauren, stayed on to complete her associate degree at Northern Virginia Community College before earning a bachelor's degree at George Mason University. She is currently seeking a nursing degree from Shenandoah University.
"We knew it was important to demonstrate to prospective colleges that our homeschooled children could readily handle college-level work. Also, with homeschooling, Laurence and I are pretty tough about their education. Our expectations are very high," said Mrs. Mixon. "When my oldest was in tenth grade, we thought long and hard about what our kids would need to present to a potential college in a well-rounded resume or package. My husband felt they needed to have on their transcripts college-level work completed in an actual classroom setting. Attending classes at a community college was a perfect fit."
The Mixon's homeschool curriculum includes the children taking courses through The Potter School online program beginning in seventh grade. These courses are designed to prepare students for AP subjects in high school. The Mixon children have all taken AP physics, AP math, and AP English programs through The Potter School.
"Because of The Potter School, my kids have found writing in college is a breeze. They have to write a paper every week for 36 weeks and prepare for the AP English exam. The boys believe The Potter School prepared them well for writing on the college level and their grades reflect this," said Mrs. Mixon.
When the Mixon children enroll at the community college, they are taking three to four courses each semester. The fall semester typically consists of pre-calculus, English 101, and a science. The spring semester continues with Calculus, English 102, and another science.
The Mixon's fifth child, Danielle, is currently enrolled at Cecil College and taking four courses this fall with an added government course. She is planning on earning an associate degree before transferring to the University of Virginia, University of Pittsburgh, or the University of Maryland.
The Mixon family's decision to direct their children toward a community college education was a conscious one. When it came time to plan for college, Lawrence and Tracey Mixon instilled in their children the importance of earning their degrees without accumulating debt.
"We have rules for the kids about not accruing college debt. We told them they could go to school wherever they wanted, but we do not want debt. Hunter, Harrison, and Brandon decided to attend a service academy and graduate with a five-year service obligation in lieu of monetary debt." said Mrs. Mixon.
The Mixon family's other three children are already preparing for their community college experience as they follow in the footsteps of their elder siblings.