It All Started Here …

Scholarship Breakfast

Published on September 14, 2018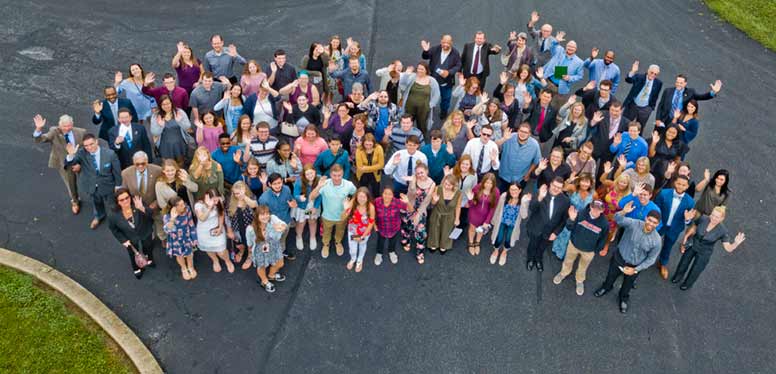 ---
RISING SUN, Md. – As Cecil College celebrates its Golden Anniversary of transforming lives through education, the Cecil College Foundation took the opportunity to host a breakfast at the Rising Sun Banquet Hall to introduce its generous contributors to those students benefiting from scholarships.
"You are making a difference in the lives of these young people," said Dr. Mary Way Bolt, president of Cecil College. "Look around this room at the students and those students who are sitting with you. I encourage you to talk to them and hear their stories. You have made it possible for them to have a brighter future."
More than 290 donors and students attended the Cecil College Foundation's annual scholarship breakfast. This year, the Foundation assisted 427 students totaling $397,537.
One of those 427 students benefiting was Lauren Guzman, an engineering major with a concentration in aerospace engineering. As the recipient of the Socrates Scholarship in Honor of Retired Faculty, Guzman can follow a path set forth during her childhood. Staring out the car window at contrails in the sky, she wondered what made them. When she discovered they were from aircraft, she became fascinated with aeronautical technology.
"I saw one of the greatest technological breakthroughs, capable of traveling hundreds of miles while utilizing the aerodynamics of a bird, and thought of how amazing life would be if I contributed to this field," said Guzman. But her ambitions go beyond the current technology and one day she hopes to be among a team of scientists and engineers who create a more efficient and cleaner jet propulsion engine.
"Thousands of students like me, and those better than me, are racing to take the next position to join a group of intellectuals to forge a better future. But many of us face an immense boundary, tuition. By the time students get their master's degree, we face a consolidated debt of at least a hundred thousand dollars," said Guzman, a member of Cecil College's Alpha Alpha Theta Chapter of the Phi Theta Kappa International Honor Society.
Community colleges have been in the national spotlight recently as the viable solution to the ever-mounting issue of student debt. Since 1985, the cost of education has increased 538 percent from an average of $3,500 to more than $25,000. The average student coming out of college finds themselves with $38,000 in debt.
"It is an honor to face the donors who caused an impact on this society so profound that attaining a dream has now turned to a goal. The Cecil College community is one of the most supportive college environments and provides various opportunities to give its graduates an edge to get into a four-year school," said Guzman. "Due to the Cecil community and its donors, I am pleased to say that I am a Cecil College student who will graduate next year with an Aerospace Engineering degree. I will continue on the next year to get an associate degree in mathematics, physics, and civil engineering."
Cecil College concluded its 49th year in May with 437 graduates, a 19.5 percent increase over the previous year. For the third consecutive year, the physical therapist assistant program enjoyed a 100 percent pass rate on the national certification. Also experiencing a 100 percent certification pass rate were the nursing, medical assistant, and phlebotomy programs. Many of these students benefited from the generous donations made to the scholarship fund.
"I thank you personally for your support and on behalf of all those students you support. Your generosity is impactful and will make a difference for generations to come," said Dr. Bolt, who was joined by Cecil College Board of Trustees members Sarah Colenda, Chick Hamm, Jr., Mark Mortenson, and Michael Scibinico, in honoring both donors and students. Also present was lifelong college supporter and Trustee Emerita Mary Malone.
For Nicholas Andrulewicz of Perryville, attending Cecil College was a "game changer" as it provided him the opportunities to learn more about himself and his work habits. It gave him a chance to assimilate from a high school mindset to college life.
"I wouldn't be at Cecil if it weren't for the scholarships I received my senior year in high school. I received scholarships from the American Legion and the Cecil County Government, opening a door for me to attend Cecil College," said Andrulewicz, who is a member of the Student Leadership Council. "I was planning on attending a four-year college, but I know I am in better shape than if I had."
This year, Andrulewicz was the recipient of the Collegium de Vinum Scholarship, sponsored by the annual Wine Gala. Collegium de Vinum translates to "gather together about wine." But Andrulewicz prefers the Latin phrase, "Congregare ad agendas gratias," which translates to "gather together to give thanks."
The Cecil College Foundation Board of Directors is comprised of 25 community leaders who work to develop financial and other resources to support Cecil College students.
"The scholarship breakfast is one of my favorite Foundation events because it brings together our donors and student recipients. This is a great opportunity to celebrate our Cecil College students and so many of the donors who support them," said John Beck, executive director of the Cecil College Foundation.
The final speaker of the morning was Trustee Hamm, who began by praising the College for 50 years of excellence as well as the honorable service Dr. Robert Gibson provided for Cecil County when he envisioned the institution in 1968.
"I think you are in the right place at the right time," said Mr. Hamm as he addressed the students. "His passion is still alive in you. You don't have to look any further than the mission statement for those special words. The ones that pull at my heartstrings are 'we are here to transform lives.' It is a great time to be here as we celebrate our Golden Anniversary, remember our roots, and build upon a great foundation."
The breakfast concluded with the presentation of the Health Education Lift Program (HELP) Fund Awards to incoming nursing students. These awards included blood pressure cuffs and other instruments the students need in their lessons.
In her closing remarks, Guzman proclaimed: "This is the school where I changed. This is where I became the person in my mind that I always wanted to be. I am Lauren Guzman, and my future started here."