It All Started Here …

Scholarships make the difference

Published on April 9, 2018 under 50th Anniversary, Academics, Alumni, Athletics, Faculty & Staff, Foundation, General News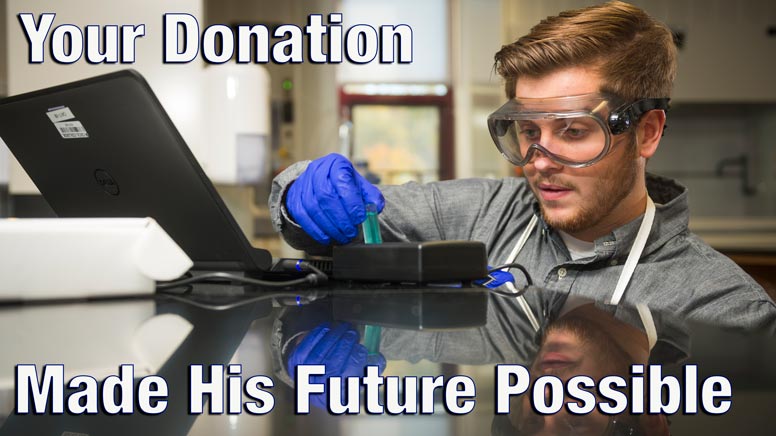 ---
NORTH EAST, Md. – The second phase of the Cecil College Foundation's campaign of inspiration to raise $1.5 million in support of student success is providing financial-academic support through the development and bolstering of scholarships at Cecil College.
In its inception, Cecil Community College was founded to be a local, affordable alternative to a four-year education. Over the last five decades, Cecil College has become much more, providing students a way to a better life and community through the pursuit of an education. Looking ahead, Cecil College continues to challenge and prepare students to meet the demanding needs of local business and industries.
The college further assists students by offering financial support in the form of scholarships.
Data shows students in a degree program who have received a scholarship, were twice as likely to complete the degree as those who didn't apply for a scholarship. The data also revealed more than 90 percent of Cecil College students work 20 hours a week to make ends meet. Over a 15-week semester, a $100 scholarship means that student can work one less hour a week to put toward their academic pursuits and family.
"That speaks volumes about the success our students are striving for and about how much a little bit of help can make. In some cases, those were $1,000 scholarships that paid for a class and supplies, so these students didn't have to take the burden on themselves," said John Beck, Executive Director of the Cecil College Foundation.
The Foundation provides more than 300 scholarships, benefiting traditional and non-traditional students. These non-traditional students include Veterans who are purposely trying to avoid using their VA benefits to save that funding stream for more expensive programs after they complete an associate degree at Cecil College.
"A $300 scholarship to a Veteran who has their eye on a bachelor or master's degree down the road, is a life-changing difference," added Beck. "We hear from students and graduates all the time about how $300 got them started, and they took four classes instead of three. They came to realize, 'Oh I can keep up with the classwork if I push myself a little harder.' They graduated in two years instead of pushing it out to three years."
The data shows that time is the enemy for community college students as many are balancing education, work, and family. The longer their education stretches out, the more likely they are to give up or try something else.
"We want our students to finish with the least amount of debt as possible. We don't want to burden people with so much debt, that also becomes a menace. It is a big deal to come out of Cecil College with as little debt obligation as possible. Everything we can do to lessen the debt load is that much more likely that person will be successful in their life," said Mark Mortenson, Giving Committee Chair and member of the Cecil College Board of Trustees.
APG Federal Credit Union is among the private companies already stepping forward to assist by funding Cecil College's First-Year Experience Program. The First-Year Experience Program introduces students to the processes of self-evaluation and self-improvement, with a portion of the course instruction dedicated to financial literacy as one of the four habits for academic success.
"Through this collaboration, we will empower the newest generation of young adults with the knowledge and tools they need to achieve a lifetime of financial independence and success," said Don W. Lewis, President/CEO.