It All Started Here …

Signifying hope and opportunity

Published on August 30, 2018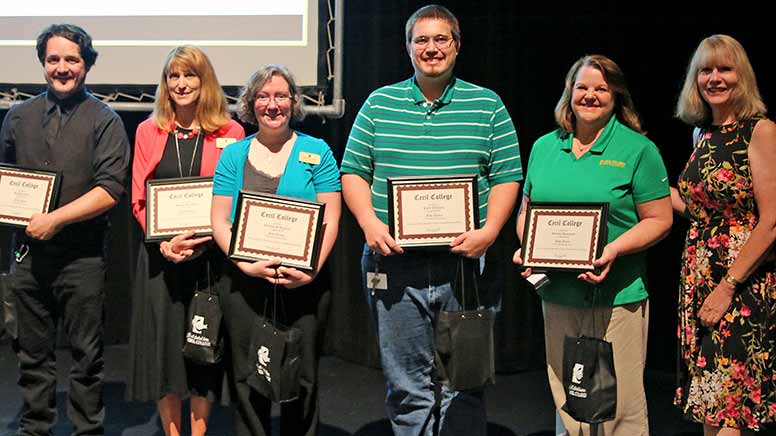 ---
NORTH EAST, Md. – Once you have hope, anything is possible. That was the underlying message for faculty and staff during the discussions, speeches and presentations at Cecil College's All-College Day. For a half-century, Cecil College has been providing hope and opportunity to Cecil County and the tri-state region.
"It is a testament to the college's mission and vision. It is a reminder of our commitment to our service for our community," said Cecil College President Dr. Mary Way Bolt in her address to the college community in the Milburn Stone Theatre. She went on to say the critical elements to student success at Cecil are the dedication, commitment and fortitude of faculty and staff in supporting students intellectually, emotionally and financially, through scholarships.
The college administration has also been diligent in strengthening the strategic plan on academic success, fostering a dynamic learning environment, expanding community alliances, and stimulating resource development.
In her address at All-College Day, Dr. Bolt talked of her aspiration for Cecil College to be an Aspen Institute for high-performing community colleges. The College's continual improvement in retention and completion rates in certificates and degrees, as well as the strides made in providing student access and success for students of color and low income, are integral parts of that journey.
Cecil College concluded its 49th year in May with 437 graduates, a 19.5 percent increase over the previous year. The retention rate is 49.9 percent heading into September, and the completion rate for developmental mathematics was 72.95 percent, nearly doubling in a four-year span.
"These accomplishments are only achieved due to the great work by our faculty and staff. It is a testament of our faculty's commitment to student success across every department and office," said Dr. Bolt. "You as individuals are the best promoters of Cecil College. There is no telling where that contact will lead. Whether to a donation, an internship, or apprenticeship for our students, these are all opportunities to better serve our students."
The College's commitment is demonstrated in the pursuit of reaccreditation from Middle States Commission on Higher Education. Also, under the direction of Dr. James Morgan, the College is pursuing accreditation from the National Center for Academic Excellence for Information Assurance, and all the healthcare programs are nationally accredited. Included is the Paramedic program receiving reaccreditation in March 2018.
Highlighting this commitment, for the third consecutive year, 100 percent of the students in the Physical Therapist Assistant program passed their certification. Students in the Medical Assistant program and Phlebotomy program also achieved a 100 percent certification pass rate. For nursing, the certification rate this summer was 97 percent with one student taking their exam in October due to a family crisis.
The 2017-2018 academic year was filled with accomplishments. The HVAC program had 13 students (93 percent) earn their industry certification; the Cecil Leadership Institute had 18 graduates that included three Cecil College employees; Cecil College was a host site for Leadercast 2018; the CDL Truck Driving program received statewide recognition with 180 graduates of whom 80 were offered employment upon completion; and the College has established several articulation agreements with another two agreements to be finalized this fall.
The list of accomplishments over the past 12 months is immense as the College made a significant impact with local industry. The Career and Community Education Open House opened doors to companies like AirClear, Amazon, and Aberdeen Proving Grounds for training contracts, internships, and apprenticeships. APG Federal Credit Union showed its support to Cecil College by establishing program funding and scholarships.
Enabling this success to move forward, the College redesigned classroom space based on feedback from faculty that included upgrading the two computer classrooms on the third floor of the Technology Center and the creation of a Cyber Cafe. Also, new this fall is the initiative of making the entire North East Campus wireless. More than 10 percent of Cecil's students do not have access to the internet at home, so the College is installing Wireless Access Points (WAP)in the parking lots to provide students internet access for research and homework purposes during off hours.
The College is also investing in professional development for all employees. Along with a technology upgrade to Jenzabar 7.2.2, students will benefit from the work of faculty as they return from sabbaticals. The College offered 16 online courses totaling nearly 800 hours of development by faculty.
"Cecil College employees are deeply committed to the mission of the College. Cecil College employees are dedicated to our students' success. That is what makes them the best," said Dr. Bolt.
Photo Gallery of All-College Day: https://flic.kr/s/aHsmhjbkwQ