The Jayne Foard Memorial Scholarship established
Published on April 2, 2021 under Alumni, Foundation, General News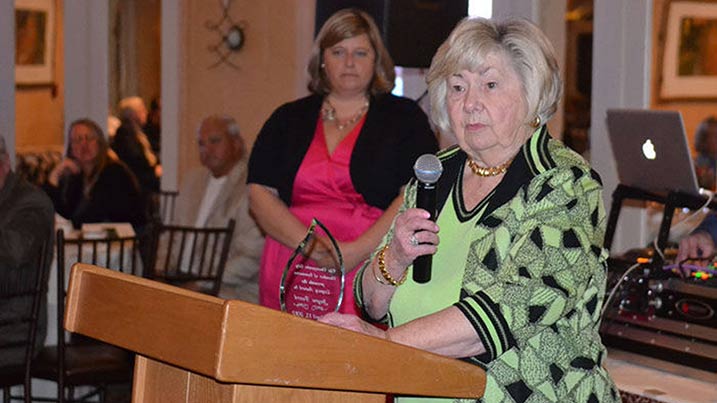 Photo provided by Cecil Whig
---
ELKTON, Md. – The Union Hospital Foundation has once again shown its commitment to the betterment of Cecil County residence by sponsoring a new scholarship at Cecil College. The Jayne Foard Memorial Scholarship is in honor of Jayne McCommons-Foard for her dedicated service to the community in education.
The scholarship will support a Cecil College student, who is a Maryland resident, pursuing a career in education.
A life-long resident of Cecil County, Mrs. Foard graduated from Chesapeake City High School in 1946. She attended Salisbury State Teachers College, receiving her bachelor's degree in education in 1950. She had an illustrious career teaching English and social studies at Bohemia Manor High School. She continued her career at Cherry Hill Middle School in Elkton, MD, where she worked as a guidance counselor, later transferring to the North East High School, where she retired as a guidance counselor from the Cecil County Public Schools in 1986.
Upon her retirement from education, Mrs. Foard opened The Back Creek General Store South Chesapeake City, where she operated the gift shop for 32 years.
Outside of her careers, Mrs. Foard was very active within the community as a founder and past president of the Woman's Civic Association which created Pell Gardens Park that sparked the revitalization of the Town of Chesapeake City. She was an active member of the Maryland Historical Trust and a member of the Order of the Eastern Star in Elkton.
She was also a member of the Retired Teachers Association, Delta Kappa Gamma Sorority International, the Union Hospital Auxiliary and the former president and active member of the Union Hospital Foundation Board in Elkton, MD.
Mrs. Foard passed away on July 5, 2019, at the age of 90.
To apply for this and other Cecil College scholarships, visit cecil.edu/scholarships. If you are interested in supporting a student through a tax-deductible gift, please contact the Cecil College Foundation at foundation@nullcecil.edu or visit cecil.edu/foundation.