Maloney inducted into Cecil Athletics Hall of Fame
Published on April 5, 2019 under Alumni, Athletics, Foundation, General News
---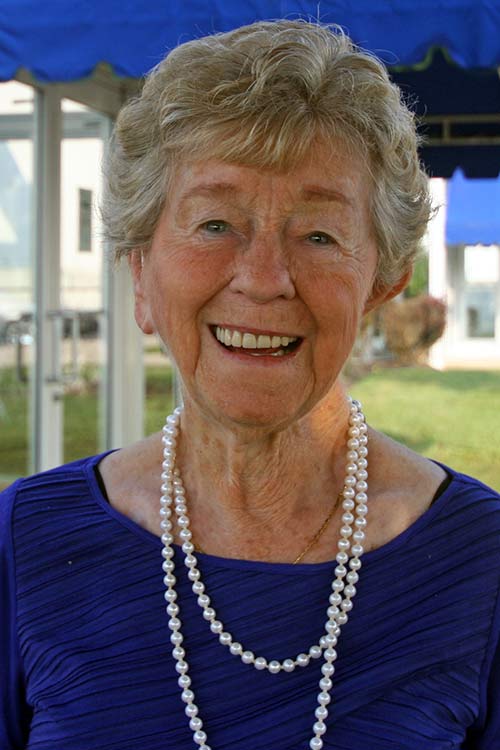 NORTH EAST, Md. – When Mary Maloney came upon the glass ceiling early in her career, she took a sledgehammer and smashed a hole through it. She was bound and determined not to be held back by any preconceptions about her gender or her ability to make a difference. This grit and determination were applied when it came to supporting the Cecil College athletics program for half a century.
"As a Cecil College Trustee, she was a staunch supporter of athletics and was appointed as a trustee-liaison to ensure the department had sufficient resources," said Cecil College Athletics Director Ed Durham.
In honor of Maloney's dedication and support for Cecil athletics, she was inducted into the Cecil College Athletics Hall of Fame during the 2019 ceremony held on Saturday, March 30.
Joining her were legendary baseball coach Charles "Dick" Brockell (posthumously); Cecil College's winningest men's basketball coach William Lewit; former Cecil College Board of Trustee member and executive director of the College Foundation Mary Maloney; former women's volleyball and basketball coach Mary Etta Reedy; former men's soccer coach, student-athlete advisor and mentor Dr. Thomas Topping; and former assistant athletics director Thomas Wilhide.
Maloney set many firsts in her life. In 1970, Maloney was the first female county commissioner in Maryland. A decade later, Gov. Harry R. Hughes asked her to become a trustee for Cecil Community College, and 24 short years later she was approved as the first Trustee Emerita in the history of the college.
"I was elated. I was so pleased to be able to be on the college board. I loved it. We were beginning to do things. The student body was increasing, and it was just wonderful. We had some tremendous people on the board," said Maloney, during an earlier interview.
Her dedication to Cecil College was immense. During her 24-year career on the board, she missed just two of the monthly meetings – due to a cancer operation and the death of her husband, Leo. She described being a trustee as one of the best experiences in her life.
During her tenure – five years as vice chair and ten years as chair – the college grew from two buildings to multiple locations. Cecil complemented its offerings of degree programs, certificates, and continuing education classes by instituting a nursing program, programs for seniors and children, fine arts and performing arts programs, and online courses, as well as several new institutes and a weather station. The college nearly doubled its degree programs from 20 to 36.
A 1941 Elkton High School graduate, Maloney attended the University of Delaware and Johns Hopkins University. As Cecil County commissioner, she established the Cecil County Department of Public Works, was responsible for proper implementation of the planning department, and actively participated in the Maryland Association of Counties. She also served on numerous other committees, councils and boards.
Maloney was involved in numerous civic activities and organizations, including the Women's Club of Cecil County, Historical Society of Cecil County, Maryland Humanities Council, and the Cecil College Foundation. Her involvement with the foundation dates back a couple of years before its 1982 incorporation, when she helped form a women's group that sold baked goods and chances in front of the Elkton Acme to raise money for scholarships. As people made their purchases, the women explained what the college did, what it was all about, and where it was.