Martin Marietta supports Cecil College's green initiative with donation
Published on March 2, 2020 under Alumni, Faculty & Staff, Foundation, General News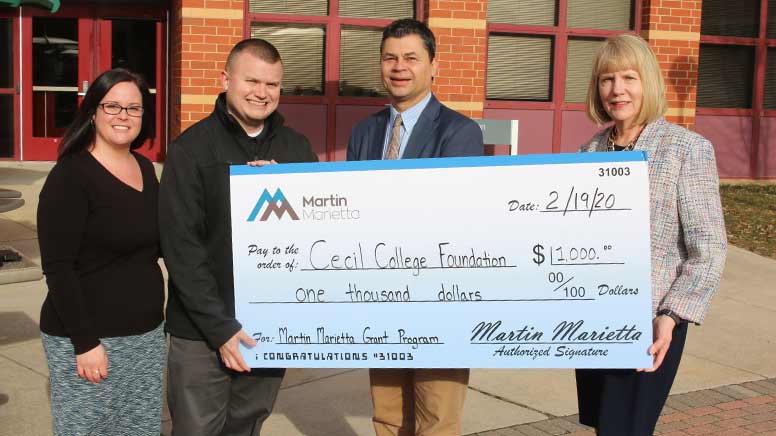 Seen here during the check presentation were: Associate Director of Cecil College Foundation and Alumni Development, Senior Sales Representative for Martin Marietta Sean Jamison, Dean of Arts, Humanities and Commerce Jonathan Esser, and Cecil College President Mary Way Bolt.
---
NORTH EAST, Md. – With the sounds of birds and bees just weeks away, Cecil College's Native Wildflower and Sustainable Organic Vegetable Garden initiative was recently the recipient of financial support from Martin Marietta just in time for spring. Sean Jamison, Senior Sales Representative at Martin Marietta, presented Cecil College President Dr. Mary Way Bolt with a check for $1,000 to be used for the College's green initiative.
"Cecil College's Native Wildflower and Sustainable Organic Vegetable Garden initiative will impact current and future generations of community members by demonstrating the importance and viability of small, sustainable, organic farming methods and will build awareness of farming as a career. The garden also incorporates educational opportunities by integrating Cecil College's Agriculture Program and Horticulture Club," said Dr. Bolt, as this funding, along with other donations, will cover the expense of the start-up as well as maintenance supplies and equipment.
Cecil College's campus already includes some local native plants, shrubs, and trees, as well as ornamentals typically recommended by landscape architects. The new demonstration wildflower and vegetable garden will create a focal point for local native species of plants that will attract local native insect pollinators to assist in rebuilding their population.
"This is a wonderful turn of events as we truly appreciate Martin Marietta's support. We aim to raise awareness for the preservation and protection of native flora and fauna while seeking to inspire young people to practice sustainable organic farming within Cecil County. These native wildflowers attract native pollinators, enhancing the beauty of the College's campus through colorful flower gardens where people can relax and restore themselves," said Jon Esser, Dean of Arts, Humanities, and Commerce.
For more than a year, Cecil College faculty, staff, students, and administrators have been working toward establishing a vegetable and native flower garden on the North East Campus. The existing flower beds below the Engineering and Math Building (EMB) will be utilized and the third-floor balcony will house raised vegetable beds in order to be wheelchair accessible and allow individuals with handicaps to take part. The EMB is Cecil College's first LEED Gold Certified building.
Master gardener Thomas McFadden has agreed to consult on the layout and selection of the plants, as the vegetable garden will include plans for crop rotation. Volunteers from faculty and staff have stepped forward, and both the Horticulture Club and the Food Pantry will lend labor and in-kind donations of plants and seeds.
Along with Cecil County's strong agricultural history, these gardens will demonstrate the importance and viability of small, sustainable, organic farming methods and build awareness of farming as a career. An additional goal of this initiative is to meet the criteria for becoming a BeeCampus USA member. BeeCampusUSA is a national organization devoted to educating the public about the importance of native pollinators. Cecil College will use the garden for demonstration purposes and continue to establish wildflower gardens elsewhere on campus and in the county.
"With the aging population of farmers and the declining number of new farmers entering the industry, it is vital to make the public aware of the issues facing the future of agriculture production. Encouraging students to engage in agriculture and understanding the mental and physical benefits of purchasing fresh local produce is key to the survival of the agricultural industry and preservation of quality of life here in Cecil County," said Maureen O'Shea, Agribusiness Coordinator for Cecil County. "Pollinators are necessary for the survival of 75 percent of plants. Additionally, one-third of our food production is reliant on these pollinators. A pollinator garden in our dense agricultural region will increase our crop output, encourage new pollinators to enter the area, and sustain our food system, securing food for our future."
Food insecurity is a significant concern for students at Cecil College with the institution's Food Pantry currently distributing food at three locations. The pantry does not currently stock any fresh produce, but the hope is that the vegetable garden will supply a steady stream of fresh produce for most of the year.
"There is a large body of research that supports the importance of gardens to mental health. Even small patches of green in urban areas are correlated with increased feelings of well-being," said Esser, who has spearheaded this initiative for Cecil College. "Cecil College's campus will be enhanced by the presence of a small but vibrant area of natural beauty. Access to flowers of varied sizes, textures, scents, and colors will provide a respite from the demands of study. Seating adjacent to the garden will give people a place to relax and take pause."
Work on these gardens will commence once the weather breaks for the spring season. The students, faculty, and staff will be working closely with the grounds maintenance team at the College.