Maryland Law Enforcement Officers support Cecil College students
Published on October 9, 2019 under Alumni, Faculty & Staff, Foundation, General News, Student Life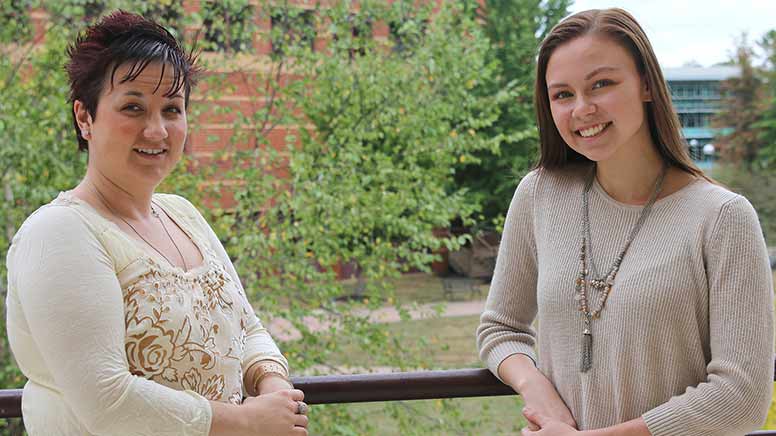 Seen here are Ashley Fundack, Ph.D., Assistant Professor of Criminal Justice at Cecil College, standing with the MLEO scholarship recipient Katherine Eisenhuth from Rising Sun.
---
NORTH EAST, Md. – For more than 20 years, the Maryland Law Enforcement Officers (MLEO) organization has been paying it forward to the next generation in the form of financial scholarships to community college students pursuing careers in criminal justice. This year's scholarship recipient from Cecil College is Katherine Eisenhuth from Rising Sun, Md., who is in the cybersecurity program.
"The MLEO Scholarship helped me in so many ways. I work full time to pay my way through college, and this scholarship helped take a load off of my shoulders," said Eisenhuth. "It also opened my eyes to cybersecurity careers in Maryland law enforcement."
The structure of the criminal justice program at Cecil College focuses on the study of crime, deviance, and forensics. It grounds students with an understanding of criminal behavior and official reactions to criminal behavior in society. Criminal justice majors gain the skills and the depth of knowledge that enable them to understand, interpret, and explain a wide range of criminal behavior.
"Our criminal justice curriculum prepares and empowers students to be critical thinkers, responsible citizens, and to analyze criminal and social behavior from a deeper perspective. They learn to analyze criminal behavior and its motivation, as the criminal justice program draws on social science disciplines including sociology and psychology as well as related field experiences," said Ashley Fundack, Ph.D., Assistant Professor of Criminal Justice at Cecil College. "The Criminal Justice program provides students with an opportunity to pursue studies leading to four-year degree programs, graduate school, or careers within the field of Criminal Justice."
Cecil College's cybersecurity program was recently designated as a National Center of Academic Excellence (CAE) in Cyber Defense Education by the National Security Agency (NSA) and the Department of Homeland Security (DHS). Cecil is the seventh community college in the State of Maryland to hold this certification. Institutions are designated based on their robust degree programs and close alignment to specific cybersecurity-related knowledge units, which are validated by top subject matter experts in the field.
"Because of this scholarship, I was able to take my mind off of the stress of paying for college, and I did not have to pick up extra shifts at my job. This allows me to have more time to focus on my classes and join the Cybersecurity club!  I am so thankful to have been the recipient of this scholarship," said Eisenhuth.
MLEO has been a longtime advocate of furthering the Foundation's charge to support the College's mission by bringing together community leaders of affluence and influence in all areas of Cecil County who will create a development plan to bridge any funding shortfall in the College's ability to reach its vision.
"The Cecil College Foundation expresses its sincere appreciation and gratitude to MLEO for being a valued Friend and Community Partner over the past 15 years. To date, MLEO has donated a total of $18,500 which has provided numerous students with life-changing financial assistance. The foundation would not be able to achieve such goals without their generous support," said Executive Director of the Cecil College Foundation and Alumni Development Lisa Wainwright. "In partnership with MLEO, we look forward to the future successes of scholarship recipients such as Katherine Eisenhuth."
MLEO is one of the oldest and largest law enforcement organizations in Maryland, consisting of more than 600 active and retired members. The MLEO Scholarship Fund provides annual, need-based financial assistance to a student from Maryland planning a career in law enforcement.