Men's basketball team qualifies for NJCAA national tournament
Published on March 9, 2022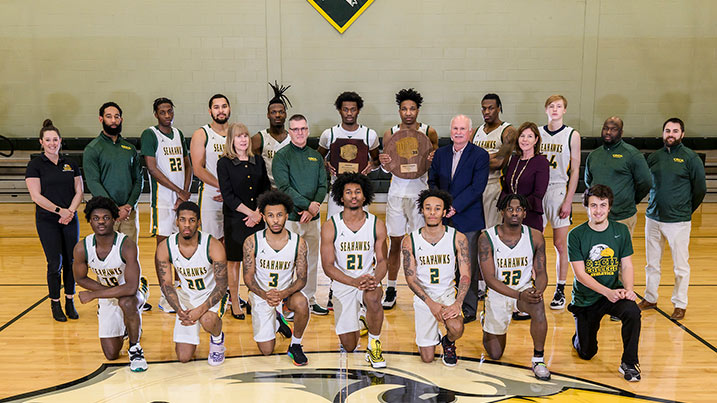 The 2022 Cecil College Men's Basketball team, coaches and staff and (center row, from left to right) Cecil College President Dr. Mary Way Bolt, Director of Athletics and Head Coach Ed Durham, Cecil College Board of Trustees Chair Mark Mortenson, Vice President of Student Services Dr. Kimberly Joyce.
---
NORTH EAST, Md. – For the second time in three years, the Cecil College men's basketball team has qualified for the National Junior College Athletic Association (NJCAA) Division II men's national tournament in Danville, Illinois. The 2022 tournament will be held from Tuesday, March 15 through Saturday, March 19, at Danville Area Community College.
The Seahawks, with a 26-2 record, achieved this qualification by winning the Region 20 championship with an 81-72 victory over Howard Community College this past weekend in McHenry, Md. But this opportunity means much more to these young men as they forge their path forward.
"Going back to a national stage means a lot to me. It means more exposure to coaches and recruiters from four-year schools for myself and my teammates. We are all trying to further our education after our studies at Cecil College," said Hassan Corbin, a six-foot-one sophomore guard from Seaford, De. Corbin is in a unique position, having been a member of the Seahawks' 2019 team that went to the national tournament, missed last season due to the COVID-19 pandemic, and has returned for the 2021-2022 season.
The Seahawks finished third out of sixteen teams in 2019 by upending the No. 3, No. 11, and No. 4 ranked teams in the tournament. The Seahawks were ranked No. 14 in the tournament.
Corbin recognizes the benefits of playing at the community college level in order to achieve his ultimate goal of being recruited by a four-year college or university. Athletes are more likely to get playing time at the community college level, as there are no upper-level students competing for spots on the court or field. Athletics at a community college provides access to facilities and extra time to improve the skills needed to be successful on the court as well as in the classroom.
"Going to any national tournament, even Region 20 playoffs, really provides an opportunity for our students to be exposed even further to recruiters and other teams that may want to recruit them for transfer to that four-year degree. It is a positive opportunity for students, and many will take advantage of the opportunities that exposure at a tournament brings to them. It is very positive for all and helps Cecil to recruit our future student-athletes," said Cecil College President Dr. Mary Way Bolt.
Darell Johnson, a six-foot-five sophomore forward from Trenton, N.J., and Region 20 tournament MVP is looking forward to the opportunity to showcase his talents for the scouts.
"This is going to be really good for us. There is going to be a lot of exposure for myself and my teammates where we can display all of our talents and hopefully gain the interest of the coaches from four-year colleges," said Johnson, who has averaged 14.4 points and 7.3 rebounds per game this season. "We have progressed immensely since the start of the season. We were kind of playing for ourselves initially, but now we are all brothers, and we are all family. No one cares who is on the court. We just want to see us winning as a team at the end of the day."
A community college education has allowed these athletes to adjust to postsecondary academics and athletics in a lower-pressure environment. With two years of academic success in the classroom, they are more attractive to the scouts from four-year colleges.
"For the student-athletes, it opens up more opportunities as they will be seen by college coaches they never thought they would have seen," said Cecil College head men's basketball coach Ed Durham. "Returning to the national tournament demonstrates a model of consistency for our program. Even though the faces change from year-to-year, the team's success shows the amount of work these guys put into becoming a solid group of young men."