Methven presented the Distinguished Service Award
Published on October 8, 2019 under Alumni, Foundation, General News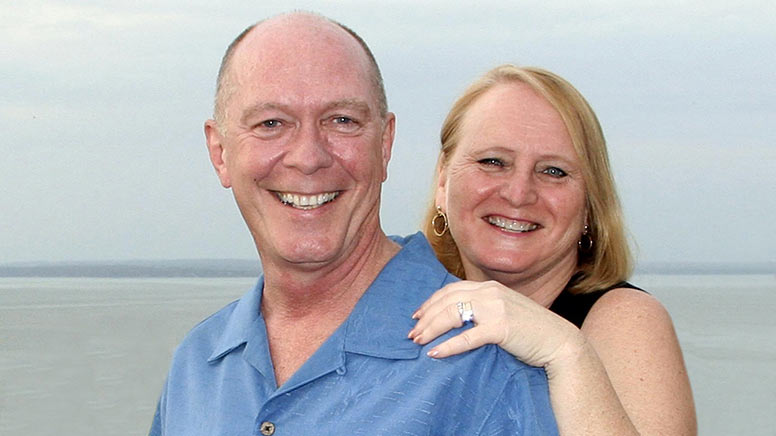 Kent and Denise Methven
---
NORTH EAST, Md. – During his 40-year career in the beverage distribution industry, Kent Methven has seen many people held back because they could not afford an education. When he learned of an opportunity at Cecil College to help raise money for scholarships, he jumped at the opportunity.
"Education is expensive no matter how you look at it. But there is money out there to fund scholarships which support the students at Cecil College. We have been able to raise a lot of money through sponsoring events and campaigns," said Methven, former Chair for the Cecil College Foundation.
In recognition of his work on the Foundation Board, Methven was presented the Mary A. Maloney Distinguished Service Award at the annual scholarship breakfast held on Wednesday, Sept. 11, in Rising Sun.
Methven has been on the Foundation Board for eight years and helped 363 students receive a scholarship for the current academic year totaling $355,500.
"The number of scholarships we award has grown every year during my time on the board. Nobody should miss out on going to school because they cannot afford it," said Methven, who used his former restaurant as a venue for many fundraising events. Methven owned Unwind Restaurant in North East for nine years before selling it to its current owner.
"I have had a lot of college students work for me at the restaurant and have seen them go on to successful careers. It afforded me an opportunity to hear their stories and learn how they struggle to juggle work and school. I have seen first-hand how a scholarship can make all the difference for these students," said Methven, who paid credit to his wife Denise for helping to make his successes possible.
"I have always had a passion for the importance of higher education, especially community colleges. Considering what a four-year college costs these days, community colleges are hidden gems in the higher education system," added Methven.