Milburn Stone Theatre highlighted at beer and slider night
Published on July 11, 2018 under 50th Anniversary, Alumni, Foundation, General News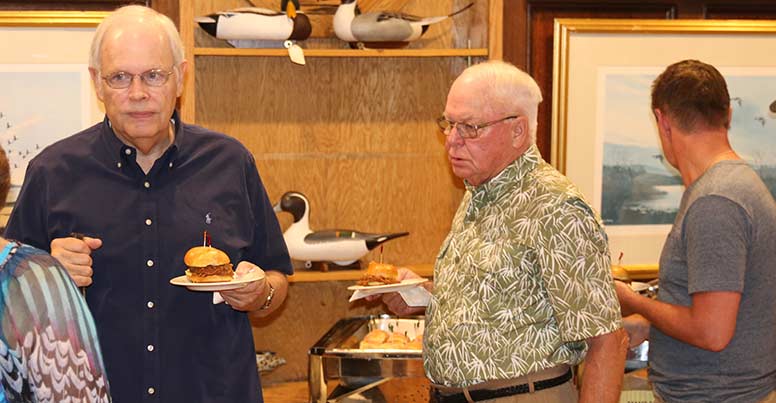 ---
CHARLESTOWN, Md. – It was a crafty evening at the Wellwood Restaurant to close out the month of June as the Cecil College Foundation paired a plethora of sliders with regional craft beers while bringing together supporters of the arts.
This summer's event was more than a small fundraiser for the Milburn Stone Theatre. It afforded the public an opportunity to meet the creative staff who have brought such productions as The Producers, Jesus Christ Superstar, The Wizard Of Oz, and most recently the very successful Peter & The Star Catcher, to life.
"There are two kinds of fundraisers. There are those that raise money for the theatre, and there are friend-raisers. This event was more of the latter," said Andrew Mitchell, Artistic Director for Milburn Stone Theatre. "We are so busy with the productions that we don't always get to meet our audience. This event was a great opportunity to thank everyone for their support."
The Cecil College Foundation hosted this Evening of Beer and Sliders at the Wellwood Restaurant in Charlestown. The restaurant did a fabulous of pairing beef, chicken, pork, shrimp, portabella mushroom sliders with regional craft beers. These include Perpetual IPA, Loose Cannon, Double Cannon, Sam Adams Seasonal, and New Belgium 1554.
"The Wellwood did a fantastic job with everything from the pairings to the fixing bar. My favorite topping was the Old Bay mixed with mayonnaise, which I would not have thought of," said Mitchell. "Everyone was very responsive to the lineup we are offering this season in the theatre."
The event raised $1,000 that will be applied to the theater's 2019 season.
View event photos at: Evening of Beer and Sliders