Mills named Director of Facilities and Capital Projects
Published on January 29, 2019 under Faculty & Staff, General News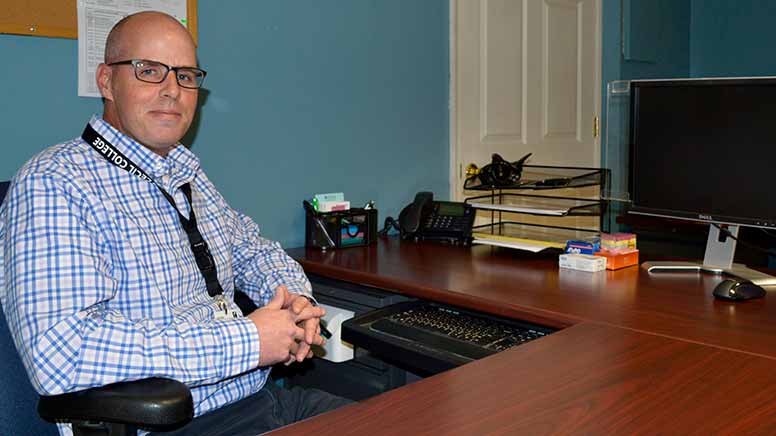 ---
NORTH EAST, Md. – Cecil College has hired Chris Mills as the new director of facilities and capital projects as the institution moves into a new era.
"I am very excited to be part of the Cecil Team and look forward to diving right in so I can help the facilities get where we want it to be," said Mills, a resident of Colora in Cecil County for more than 20 years.
Mills will oversee all the facilities operations on the North East Campus, Elkton Station and Bainbridge Campus, along with the maintenance of College buildings and grounds, utilities, energy management, and safety systems to provide a safe, healthy, and comfortable environment for students, faculty and staff.
The individual in this position is responsible for the scheduling and supervision of maintenance and repair activities, contracted services, and custodial services, and ensuring the physical operation of the college meets budgetary and strategic objectives. The director will have primary responsibility for transitioning facilities services in-house from the College's external partner.
Mills earned an associate degree in business from Columbia Southern University before going on to complete his Bachelor of Science degree in business administration and project management from Columbia Southern University.  He is working on his master's degree in business administration and finance at Columbia Southern University which he expects to complete in 2020.
Throughout his career, Mills has been very active in professional training as he completed the Duke University Executive Education Leadership Program in 2017 and holds certifications for Accredited Marine Port Executive (AMPE), Certified Port Executive (CPE), and Facility Security Officer (FSO).
"We want to make sure we provide the most conducive and comfortable environment for the students to come here to complete their studies. Having worked in the heavy equipment industry for many years both as a hands-on employee and then as a director, I bring a lot of experience that aligns with the college's mission," said Mills.
His responsibilities will also include the supervision and evaluation of department staff along with ensuring professional development safety regulation is adhered to on all levels. He will also evaluate the need for and arrange physical plant training sessions (bloodborne pathogens, OSHA, MOSH, MSDS, and other job-related training) both in-house and off campus.
He will oversee external contractors and monitor department budgets to request capital outlay expenditures as needed.